Ooohh, look: a shiny new quad bike which, after a 1-minute initial ride each, we have declared to be fab!!!! And unlike a friend who looked at it with envy, we really do have a genuine reason to have one. It arrived on Tuesday and already it has been perfect for the jobs in hand: yesterday we hitched it up to the trailer so we could move a load of wood to the barn store, and today, David loaded up the box on the back and drove to the bottom of 6-acre to sort some fencing and 'Firefly-proof' the gate between us and John and Sonya's land. (Firefly, our Irish Setter puppy, is somewhat of a wriggle monkey and loves to lie flat on the ground and 'wriggle' under things. Hilarious to watch but when his wriggling takes him off our land, we are not quite so impressed!!)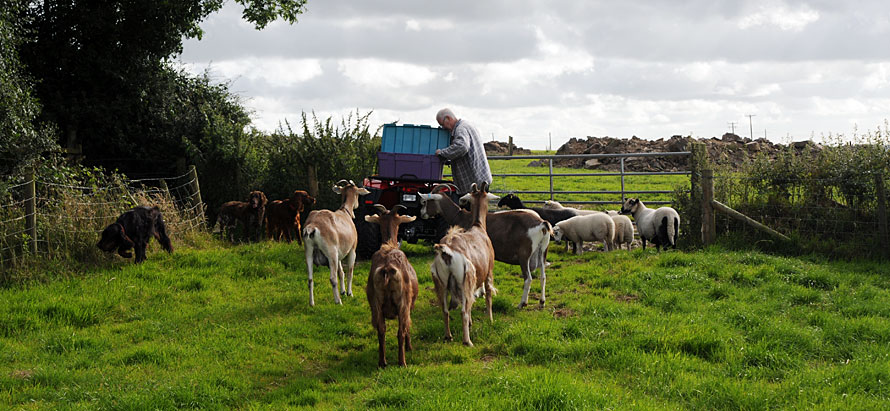 Anyway, back to the quad: easy to drive, sturdy, safe (we hope) and because it can tow the trailer it means when we pick up stock, we can unhitch from the Volvo, hitch up the quad and then drive the animals straight into our fields. Perfect!
As the photo shows, the sheep and goats (and dogs) weren't too bothered by the noise, size and colour of the bike and were probably hoping David might produce more than a pair of fencing pliers and a hammer from the box on the back!!! Better luck next time guys!!