Mike Ford Fencing put up our new fence today. We are seriously pleased with it. The 6-acre field is now split in two so we can separate the livestock in whatever way we need, as well as rest the grass and shut the bottom half off when we need to. The spilt is actually not exactly in half - we guessed where half might be and then deliberately made the top bit a little larger than the bottom as that will probably be the side that the animals stay in further into the winter.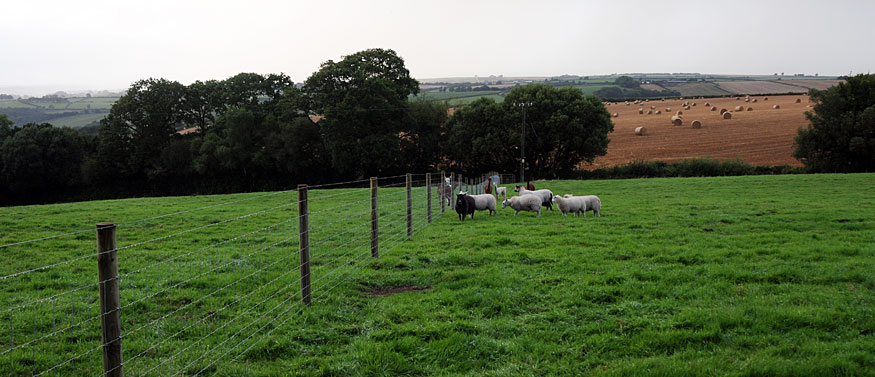 There are two gates, one at each end (to spread any poaching) and two strands of wire above the stock fencing itself – just in case anyone thinks they might want to leap over (Pickle???).
Is it sad to get excited about a fence? Probably! Do we care? Not a jot!
Next stage is getting the pole barns built; Mike Ford is providing a quote alongside a chap called Graham Bell whose work we saw at a goat and pig smallholding over the weekend. His goat house was stunning!!!
Talking of goats…… the consensus of opinion from both our vet and a specialist goat vet in Bristol (David Harwood) is that Curds, Cheddar and Gorge have a condition that they are probably genetically pre-disposed to and that we should no longer use them for breeding. For the moment we are putting any blood tests and/or xrays on the back burner and trying to manage their symptoms: anti-inflammatory and pain relief for Gorge for a while longer and glucosamine supplements for all three. Glucosamine is meant to help ease aching and swollen joints – it works wonders for our dogs so fingers crossed for our goats!!
What now to do? We have two issues: how do we want to proceed with our goat breeding ideas and will we be able to keep breeding and non-breeding goats together? There are a fair few management issues with this to be sure. And of course we are talking about animals we love and that we consider pets!!! There are no easy answers!!!