Today marks a month of living at Cadbury! It also marks a very definitive step forward in our plans to keep cows!! Over the last three weeks we have visited four herds: one Shetland and three Dexters. Dexters always were the favoured choice (Jack fell in love with them at the tender age of 16) and so it is that today we officially 'bought' our first three 'in-calf' heifers, two with calves-a-foot!!! A delivery date is yet to be set but it should be in the next two weeks we hope. We are beyond excited, and a little nervous if truth be known – but nervous in a good way….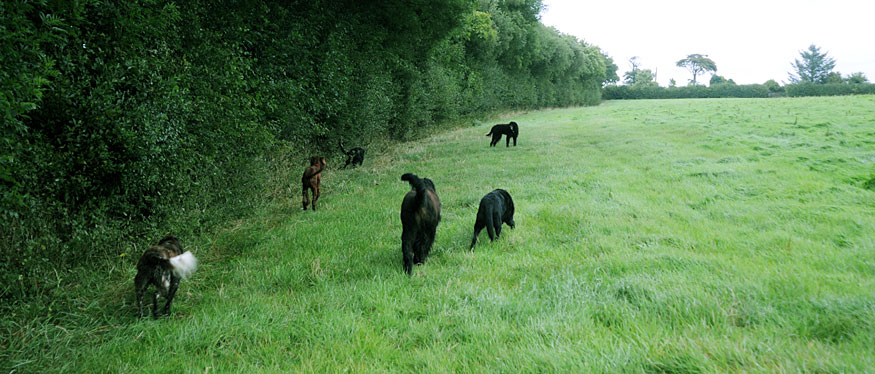 We took the dogs round the 4-acre field tonight (as the photo shows) and imagined what it will be like with five cows living in it!!! It is currently in fabulous condition (well, aside from the patch of docks in the middle) and we hope it will serve the cows well and right into the winter. They may have to share it at times with our ram (yet to arrive).
We have a lot of planning to do now as next spring we could be looking at having four sets of births on the smallholding: cows (due April and May); alpacas (due mid-June ish) plus the sheep (and maybe a goat or two) with dates yet to be planned (but somewhere in the middle). And in between times we need to get the stable store more organised with shelving, get better arranged perches in the poultry area, tidy the barn lean-to a bit more, move all the old wood into one central area ready for chopping into firewood for the winter, get barn stalls set up in preparation for any animals that need to come in over the winter (should just be the goats) and then think about rearranging them in early spring ready for calving, lambing and kidding…
Oh, and we are also thinking about the duck pond we want to build in the poultry paddock (as well as our three pole barns)...