Our first field shelter (pole barn) was completed today and we are seriously pleased with it. Mike Ford Fencing have once again come up trumps! We are putting one shelter in each of our three fields which means that along with the barn, we will have four separate covered areas for the livestock to go in over the winter when the weather is bad. At the moment it is only really the goats who need to take shelter as they hate the rain, no matter what the season. Their coats are not designed to get wet as their hair is non oily and quite thin and so allows water to soak through to the skin. Sheep and alpacas have very thick, and in the case of the sheep, very oily fleeces that hold the water, rather than allowing it to soak through. They are happy (ish) to stay out in the rain most of the time or to take some shelter by the hedgerows in order to avoid the worst of the wet stuff!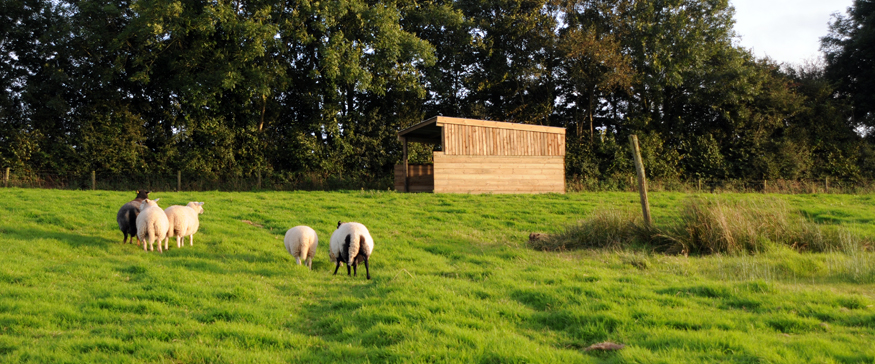 It is a combination of wind AND rain that sends a lot of livestock hurrying for shelter and in the winter, wind and rain can be a VERY cold combination.
Hopefully, none of the animals will need to spend any large amounts of time in the shelters but if they do, the design of them should ensure they are kept warm and dry. Each pole barn will have an open front with the other three sides filled with 4 foot high dung boarding. In addition, any sides facing west or south will also have slatted wood (Yorkshire boarding) to stop the rain and wind pouring in but still allowing the air to circulate. Any sides facing north or east will be left just with the dung boarding as hopefully the weather won't get in!!
And tomorrow... the cows arrive!!!