We are due snow tomorrow, possibly. (In the photo, Saturn is assessing the sky and deciding what she thinks…). Every time we check the forecast, it has changed. At the last look, the images showed heavy rain in the morning, sleet in the afternoon and snow in the evening: not a great combination or a great order of events!!! Friday is then full of sunny intervals and high winds! Saturday no doubt will then be full of slushy mud as everything, by then, will have melted!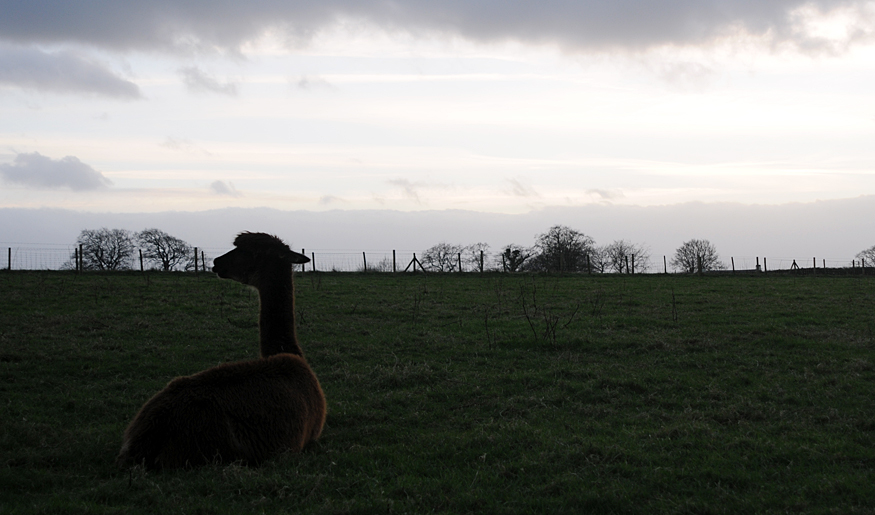 It is great when bad weather is imminent to know that all our animals can keep warm and dry – should they so choose!! We are always amazed at how the alpacas usually stay out in bad weather and to a lesser extent the sheep too. It is always a reminder for us that both species have very thick coats and we (Jack!) need not worry quite so much that they are okay!!!
The poultry of course have no choice about being in or out!!! The netting for their run arrived today but the forecast for the next couple of days means we probably won't get around to fixing it in place before the weekend. Until then, we hope the copious amounts of straw we keep giving the birds will keep them occupied and stress-free!!
January can be a hard month on the smallholding with unpredictable weather and no real sign that spring is on the way. And yet, we keep looking at the grass and realizing it is still growing, just a little bit. The buds on the trees and bushes are all still very tight but they are there in huge numbers up and down our hedgerows and in the garden. AND David's seed packets are all sorted month by month with quite a few posted in the 'to be planted in February' slot – February being a mere 20 days away!!!
Meanwhile, another quick check of the forecast now shows heavy rain in the morning, a mixture of sleet and heavy snow in the afternoon and a mixture of sleet and light snow in the evening. And it even shows a touch of snow on Friday.
Tomorrow will tell!!!