We are eagerly looking for signs of bulling with the cows at the moment and not seeing a lot it has to be said. Both Parsley or Thyme are both still with their calves which can delay the start of the seasons or make them less pronounced, but both youngsters are now well over 2 months old so we should be seeing some signs soon.
Bulling is the most obvious sign a cow is in season, other signs include being noisier than usual, behaving differently (this often means being quite 'pushy') and being swollen/ mucousy round the back end.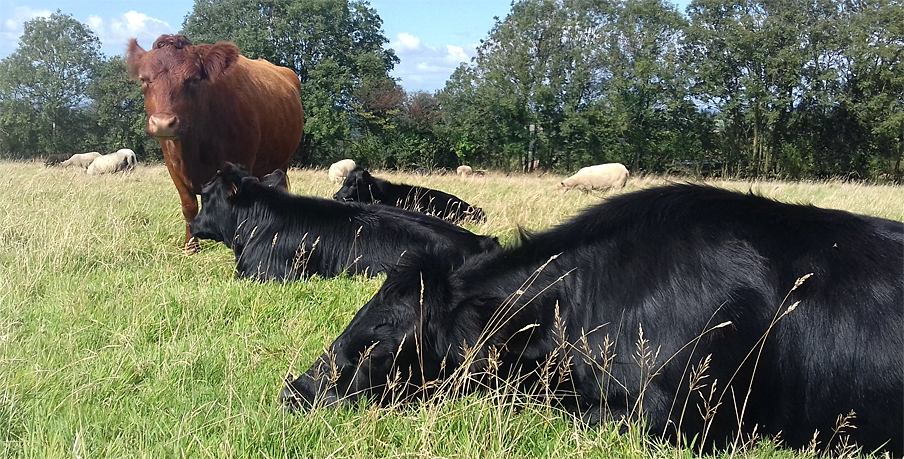 Spearmint, our heifer, has already had several seasons and in fact is being a bit of a tart, jumping on the male calf and her mother and aunt - she has also been pretty regular, cycling every 17/18 days (three weeks is the average).
As soon as we know we have a cow in season we call the 'AI' man who will jump in his van, making sure the semen straws are safely in their nitrogen flask. Our job is to then get the said cow in the crush ready to be inseminated. It is all over pretty quickly usually (just as well as it is all a bit undignified for the cow really - and usually involves copious amounts of poo too).
And then we have an anxious wait of a couple of months till we can get them scanned to see if it has all been successful. Overall AI success rates vary from breed to breed and according to the age of the cow but are something around 60-70%. When you only have 2 or 3 animals to AI that is a scary statistic.
Thanks to our Dexters being exhibitionists and the skill of our AI chap, we have had 3 out of 3 positive scans both years we have been doing this. Fingers crossed we can make it a hat trick this year.
(It's all a bit easier with the sheep, get Mr Brown raddled up and off he goes...)