Forty-four days old: Sunday 13th February
Wet Play
The pups have had two modes today: on and off, or to put it in puppy speak: manic, noisy and delighting in trashing their run; 'or' utterly and totally out for the count where not even mum sticking her head over the gate has roused them. It's also been a hideously wet day so even though the outside run was given a tarpaulin top, time outdoors was rather limited. Still, the pups are now very used to the sound of high winds, lashing rain and flapping plastic - all in a day's work!!!
The rain eased off this evening so they did all have a good romp in the now wet straw after supper. Not surprisingly though we have had a few more indoor poos today and a lot more wees, although a good 80% at least are on the paper, the area of which we have much reduced to encourage them NOT to soil where they play and sleep. This is working pretty well during the day - the nights are a different story.... we won't dwell...

Stonefly continues to give the odd feed, usually always one first thing when we let her in with them and often after her walks too when she comes in to check they are still there and okay. We do love here 'check-ins' - they all get a look and a lick and then she will lay down just outside the run and snooze - her work done and so able to comfortably chill!!!
Her desire to clean up after them is very much there still, but most of the time, thanksfully, we beat her to it.

Roxy, our Gordon girl who had her first litter 18 months ago, appears to be getting more and more anxious about the pups - the other day they were all in the outside run and she came into the front room, saw they weren't inside and starting to get quite agitated, staring and grumbling at the door through which she could see them racing around on the straw. When they came in she stuck her head over the gate and nuzzled and checked them all, again with a low grumbling sound, almost as though she was telling them off for staying out too late!! It's intriguing behaviour and does make us slightly wonder/ worry what she may be like when they all go.

Chewing gets more and more intense for the pups, everything is fair game, be it the back of ankles (short, loud shrieks usually out paid to those!!) or cardboard boxes. We found a couple of old kongs and a huge plastic knobbly ball today - those went down a treat!!

We are treasuring every day with them as our time with them gets shorter! We keep telling ourselves how wonderful it will be to reclaim all those hours each day but the reality is of course, we are going to miss them like crazy!!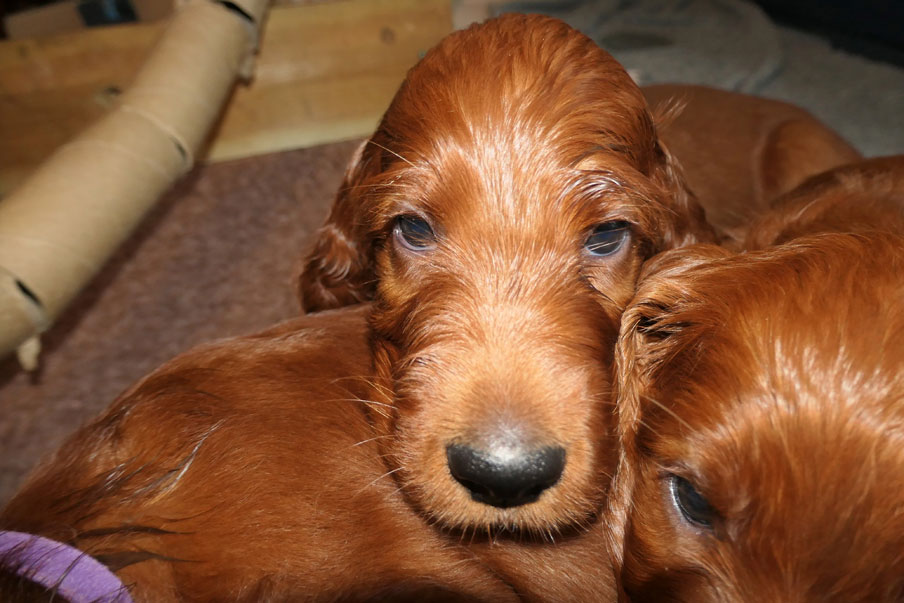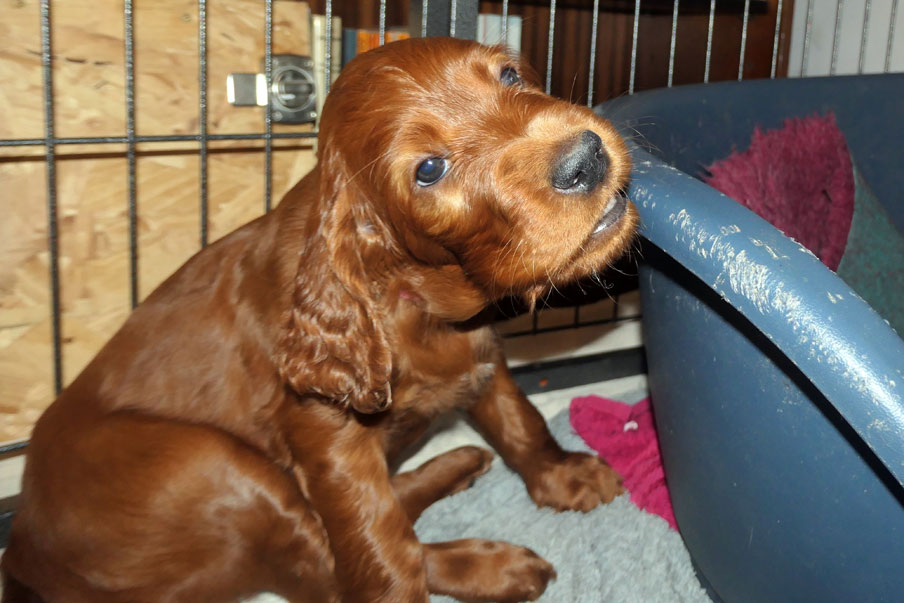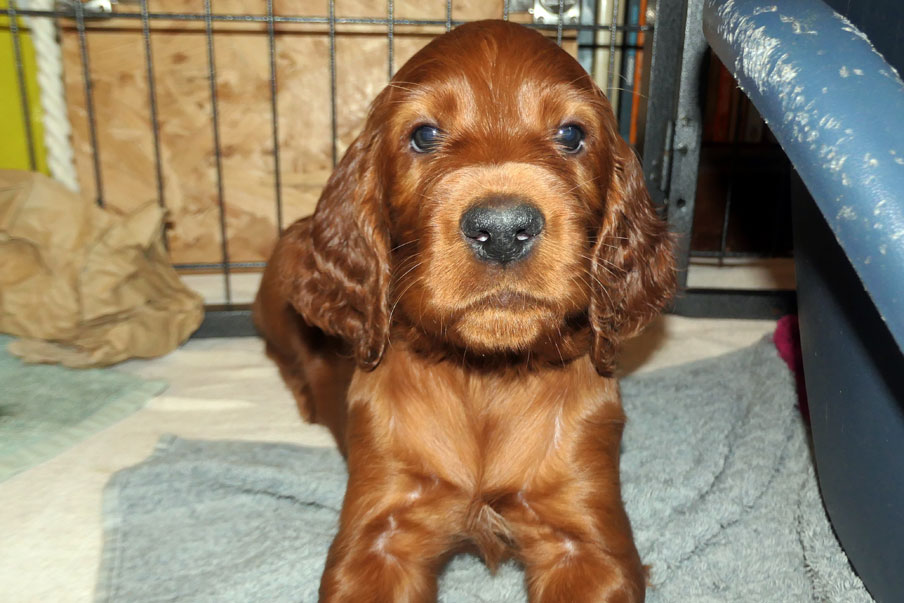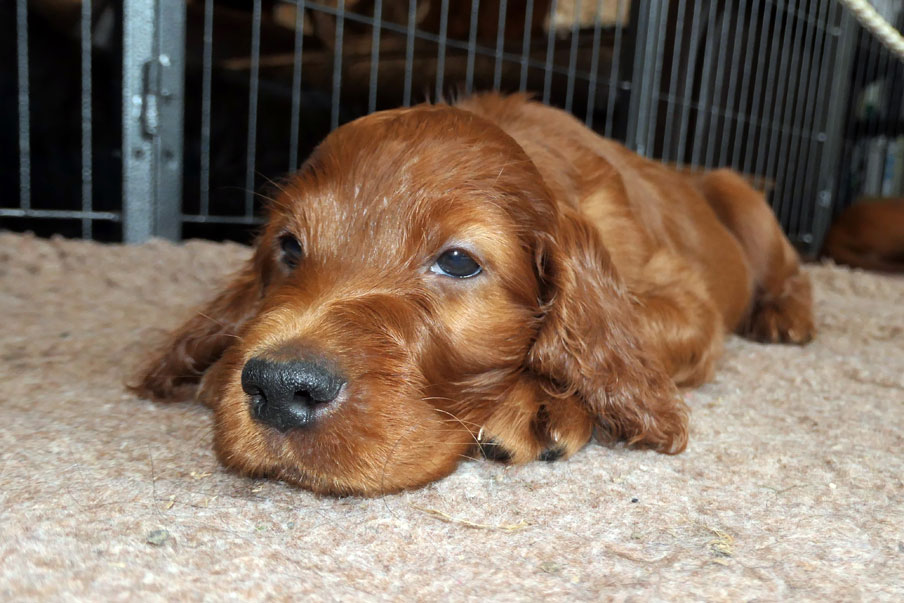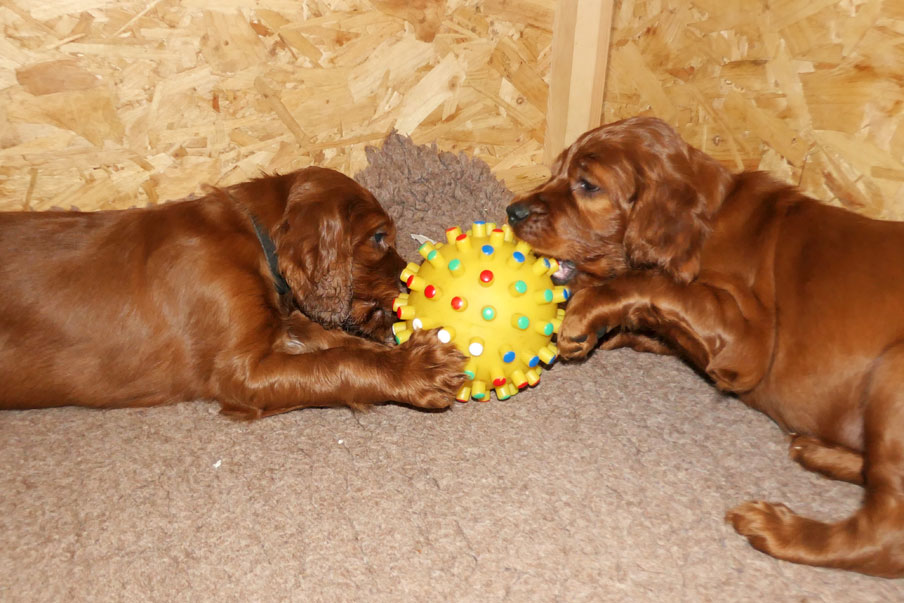 Forty-five days old: Monday 14th February
A special visit!!
Another day of pretty vile weather resulting in less outside playtimes. The cover to the run is doing a grand job mind you and most of the pups were more than happy to run around underneath it, albeit in wet straw, unlike the lush, dry straw of a few days ago that they enjoyed ploughing into and kicking up in the air!!!

But enough of weather, the big news from today is that we had a visit from Kate and Gerald, breeders of both Stonefly and Jack. Whilst we will confess to a few nerves before they arrived, we are delighted to announce that they were really thrilled with the pups and really liked how they looked. They particularly liked the eyes but also the head shapes, the length of ears and their overall coats. We were so pleased to hear all this - obviously we think all ten are stunning but with 30 plus years of breeding behind them, hearing such positive comments from Kate and Gerald made us feel just a teeny bit proud.

We are aware that in all the zillions of photos we take, it is getting harder and harder to 'spot' individual pups as collars are no longer 'way too big' for the pups' necks and fur length is getting increasingly longer. With this in mind we are planning to take some special 'individual' shots of them all on Thursday, with the help of two friends who are coming down from Oxfordshire. Fingers crossed for a dry day as natural light will be so much better.
We will then pubish as many as we can to that evening's blog (if they turn out okay).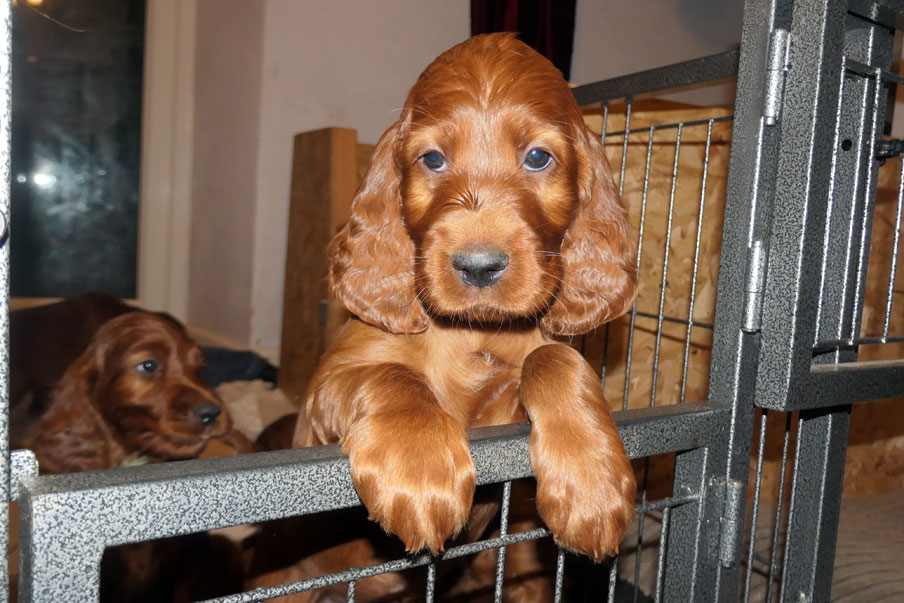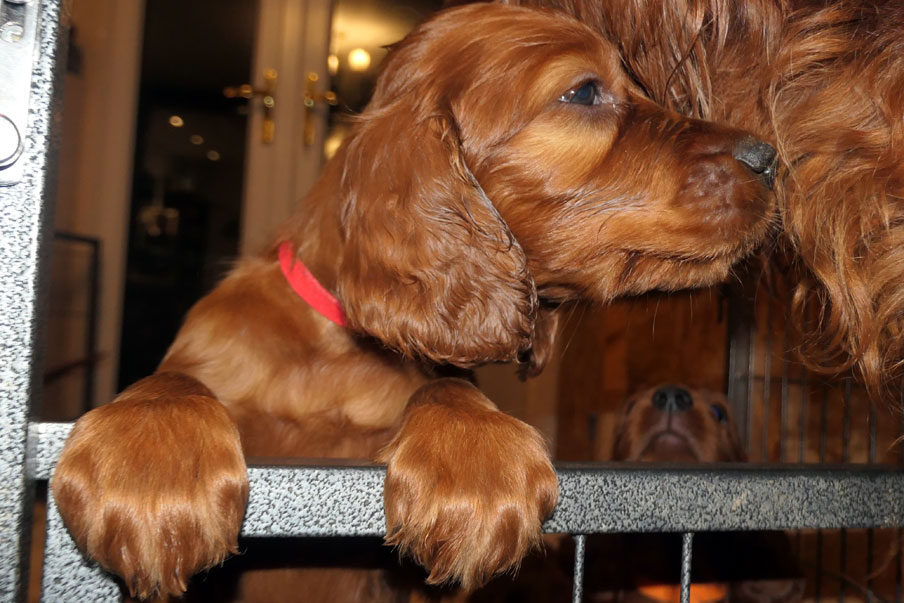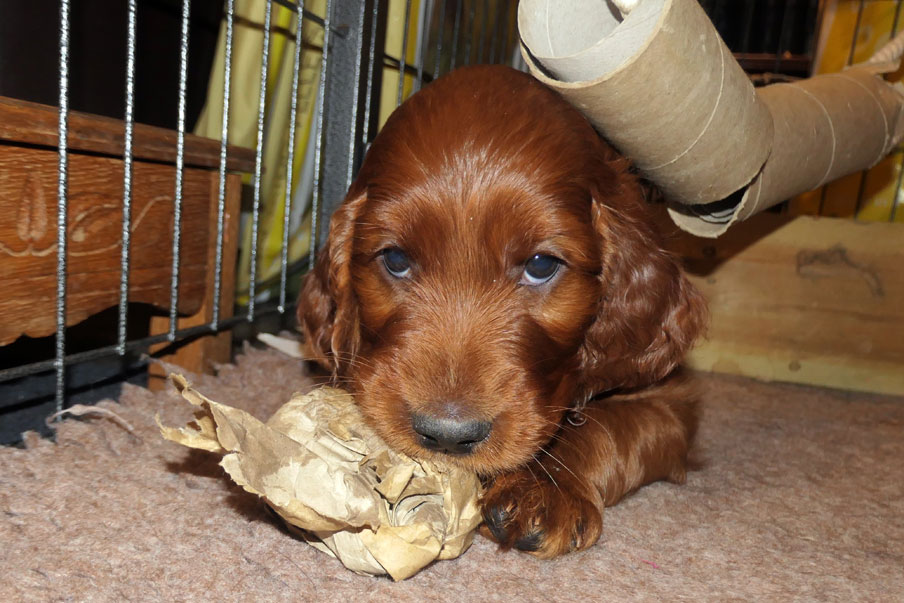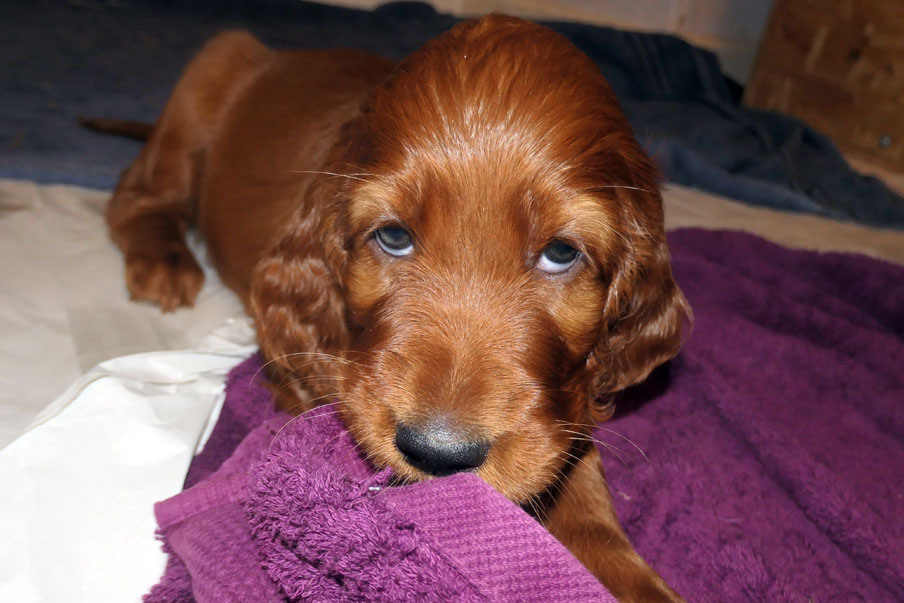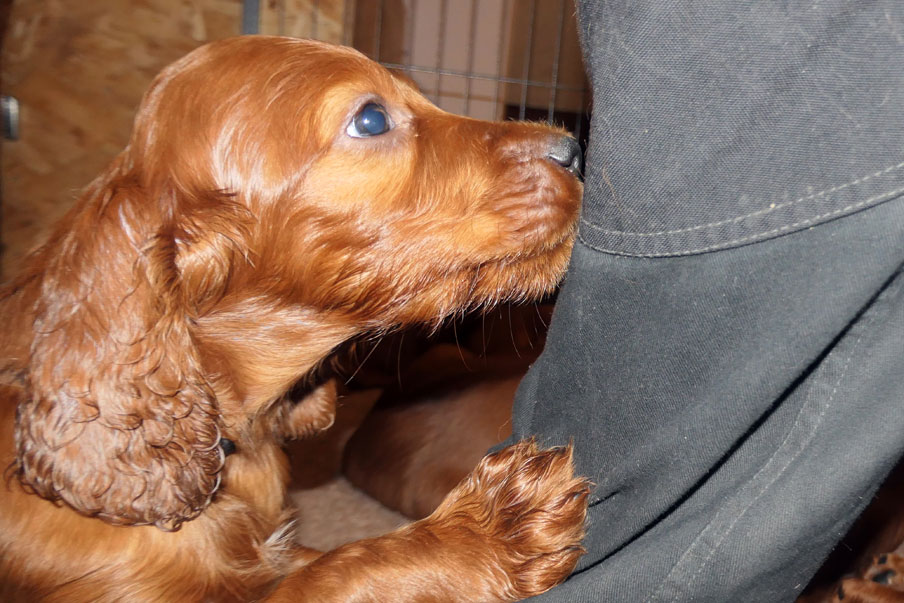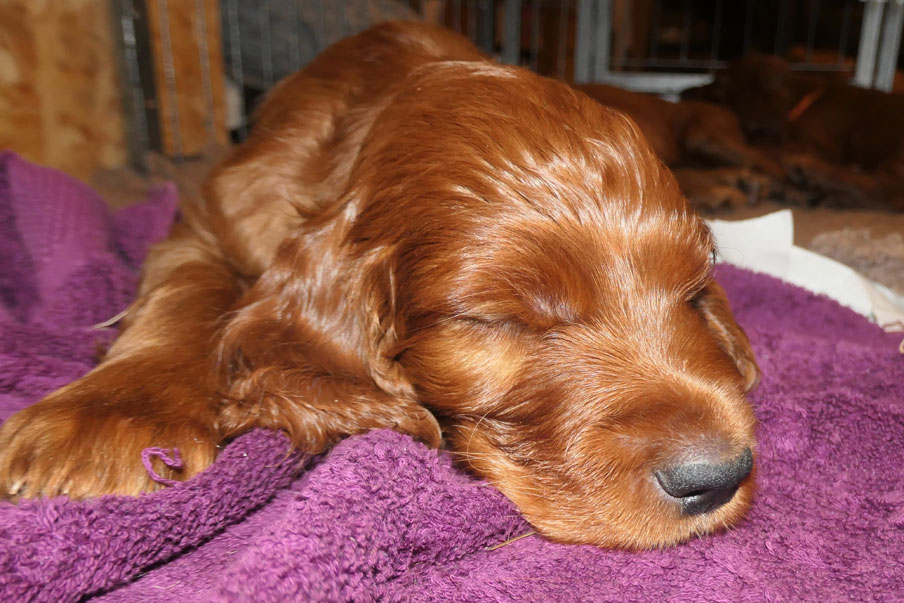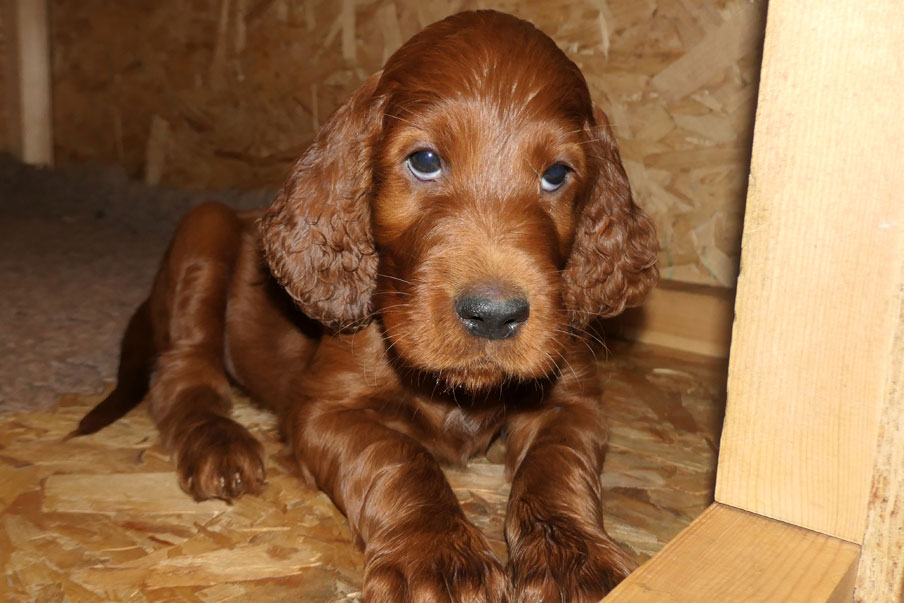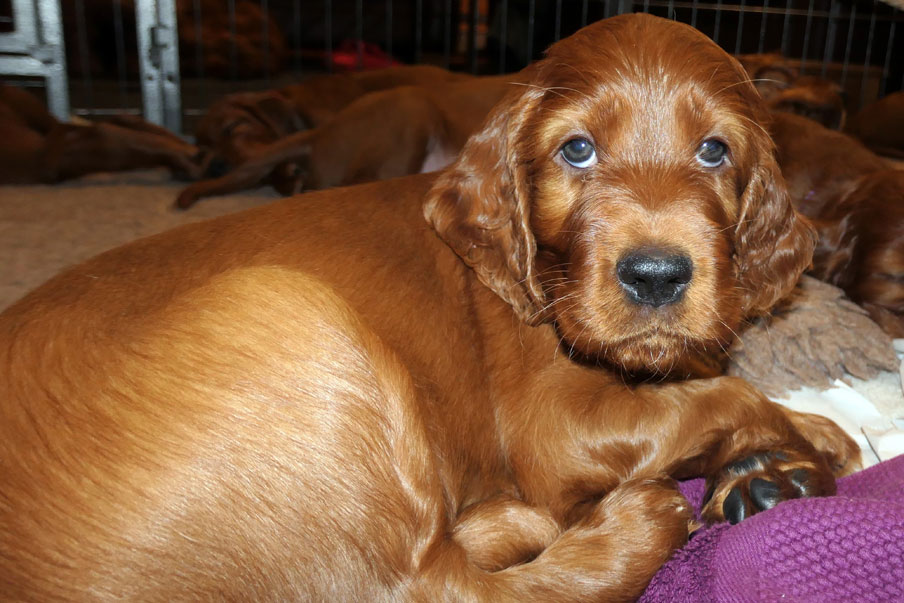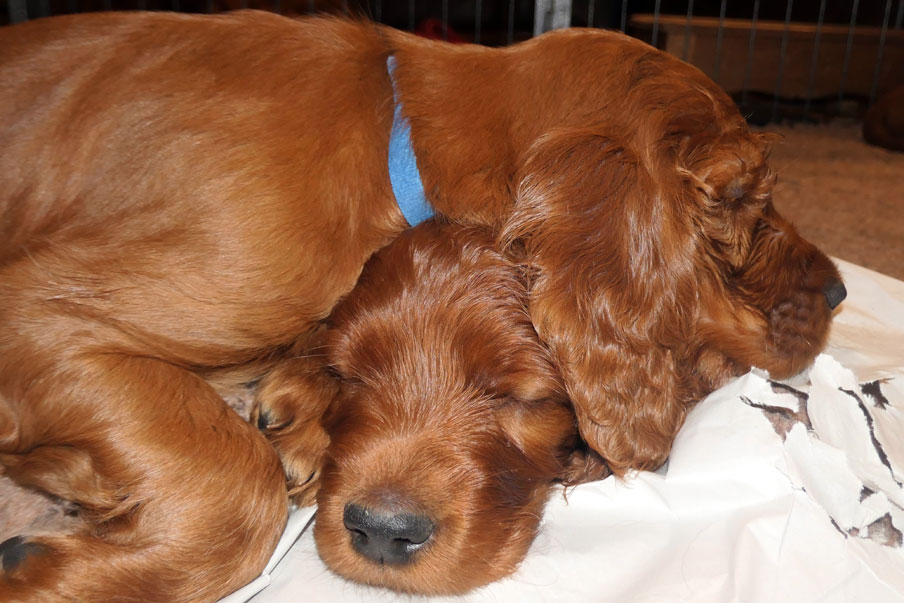 Forty-six days old: Tuesday 15th February
Cuddles
The weather is still horrid and set to be so all week but the pups are great at going out for wee and poo breaks and 'performing' as required which has meant the inside run has kept pretty clean most of the day. There is no doubt it is harder to raise a winter litter than a summer one, but hopefully going out in the wet won't be too much of an issue for this lot - fingers crossed.
We are making the most of cuddle times at the moment!!! The pups are so warm when we pick them up and even compared to a week ago when they started to go outside, they are much better at keeping their bodies warm even as the temperatures go down or as they get a little wet!!
Big puppy piles are quite rare now and even if sometimes there are a few heaps of three or more, we find that after a bit, individual pups get up and move slightly away as they get too warm.

Oh and we have another member of the 'second collars club': we found Kevin and Bonnie Yellow happily chewing Ruby's collar yesterday morning, so she is now sporting a brand new one, which is VERY pink!!! Let's hope we don't have to start a 'third collars club' before they all leave for pastures new.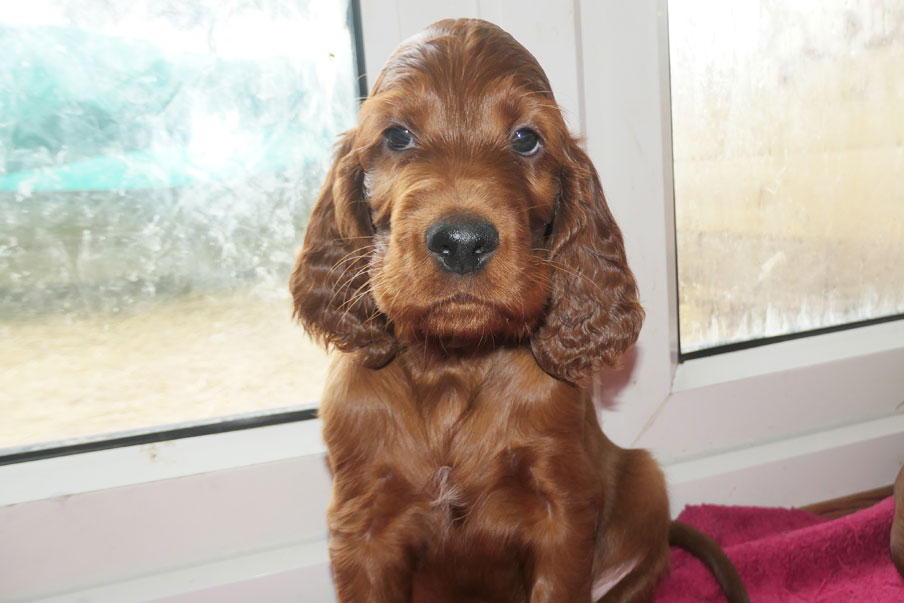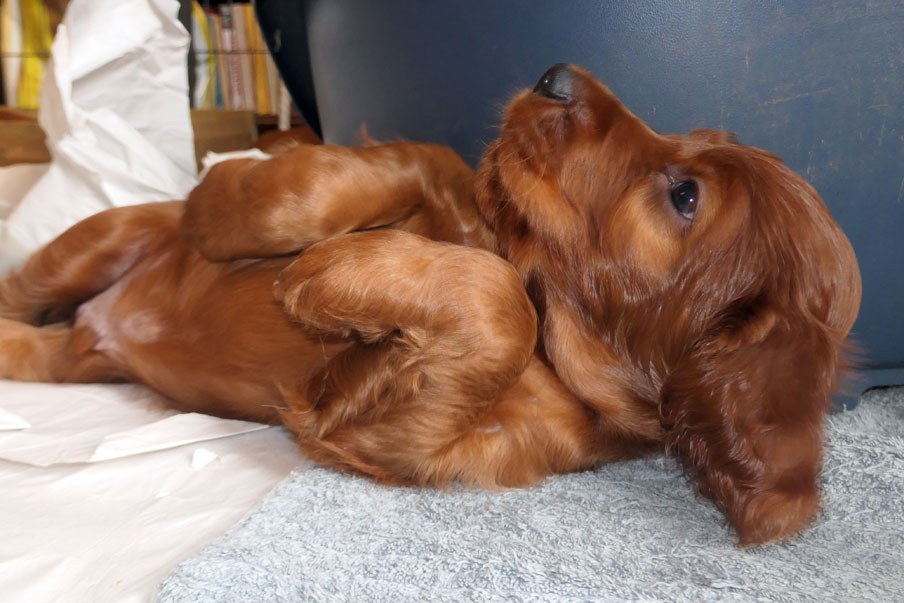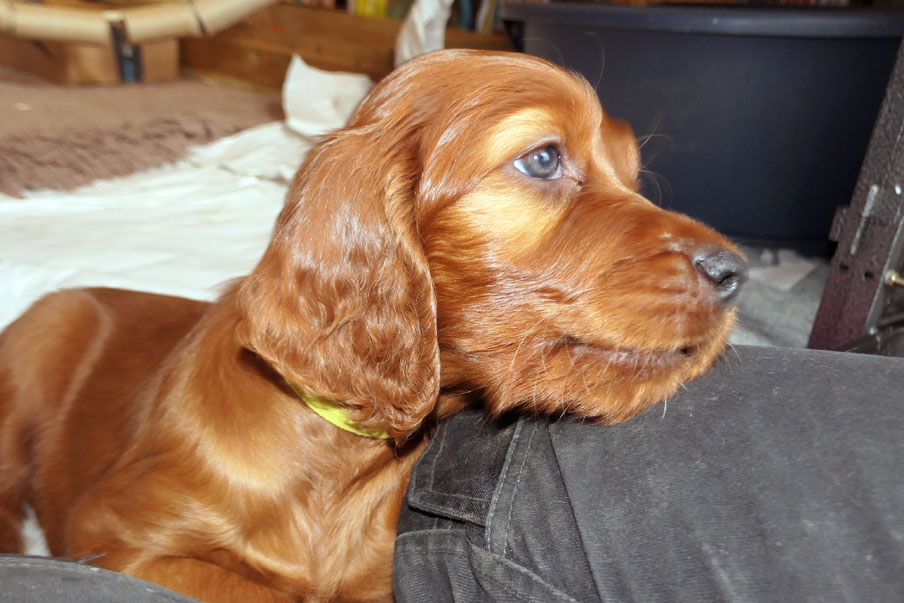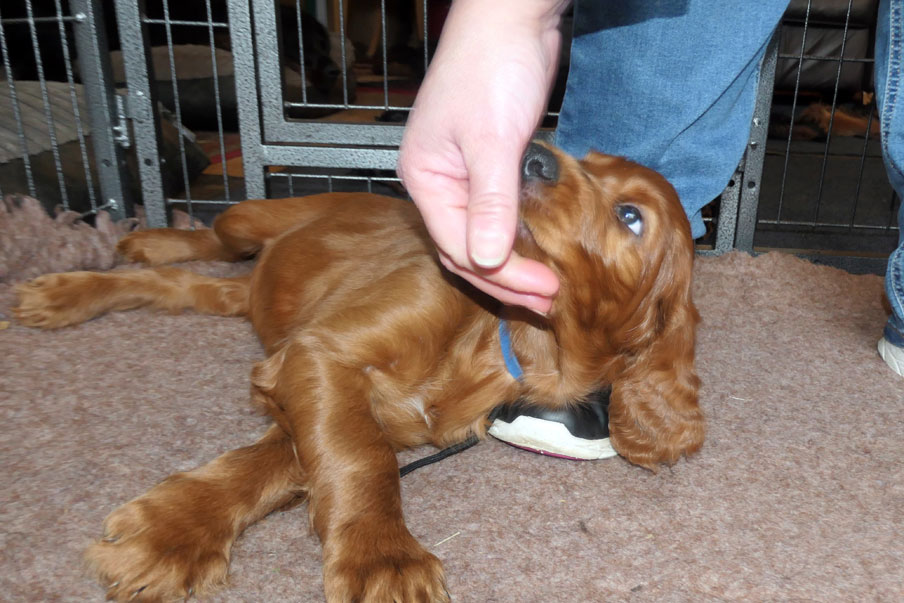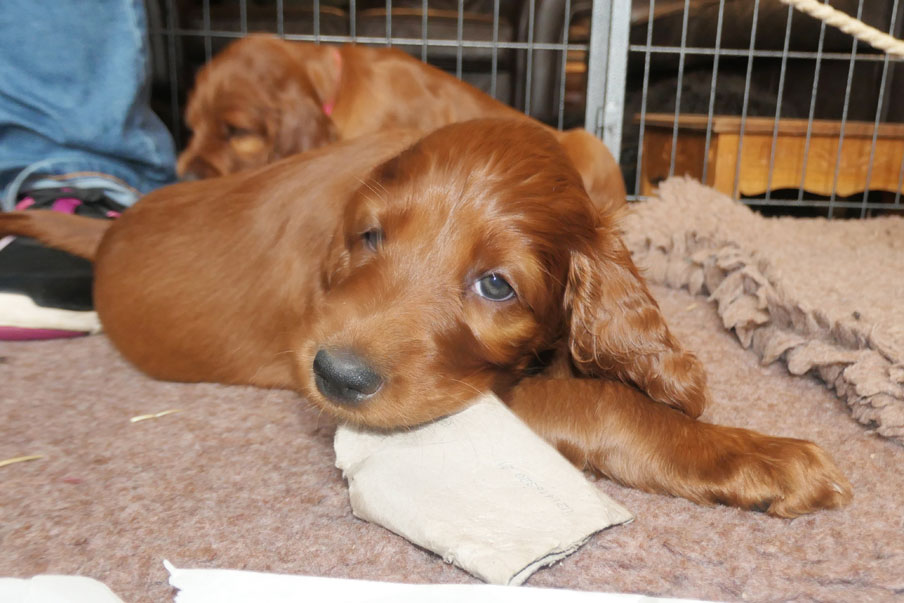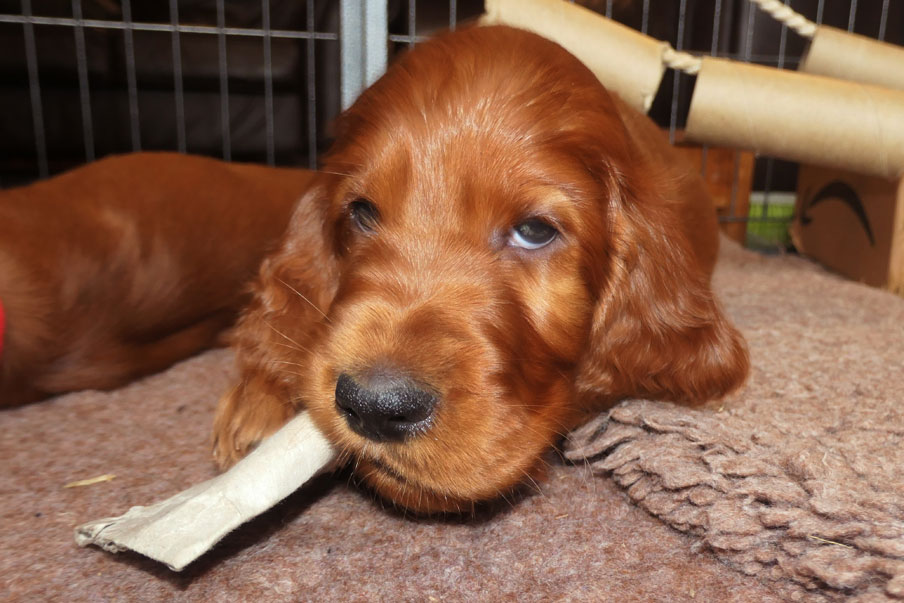 Forty-seven days old: Wednesday 16th February
Storm Dudley
We think it's fair to say that these pups are going to be very used to extreme weather. Storm Dudley has been raging here today and neither the sound of wind howling through doors and windows, nor flapping tarpaulins, creaking branches and the crashing of metal dustbins has phased them. At one point, as they raced around their run after a meal, we were the ones stood there shivering and being buffeted around, whilst they carried on chasing each other, climbing on their upturned beds and digging in the straw - happy as Larry and not at all bothered by the chaos around them.

Bonnie Orange has now joined the 'Third Collars Club' and as we don't have another orange collar she is now Bonnie Brown!! And Jack is now the fifth (or is it sixth?) pup to join Collar Club Number Two.
The record for the last litter was 'four' by the way, so with over a week to go, Bonnie has a good chance of equaling that. LOL.

They get ever more responsive to our voices and interactions with them. 'Puppies come' gets them out of the door for the toilet breaks every time!!! Such clever pups.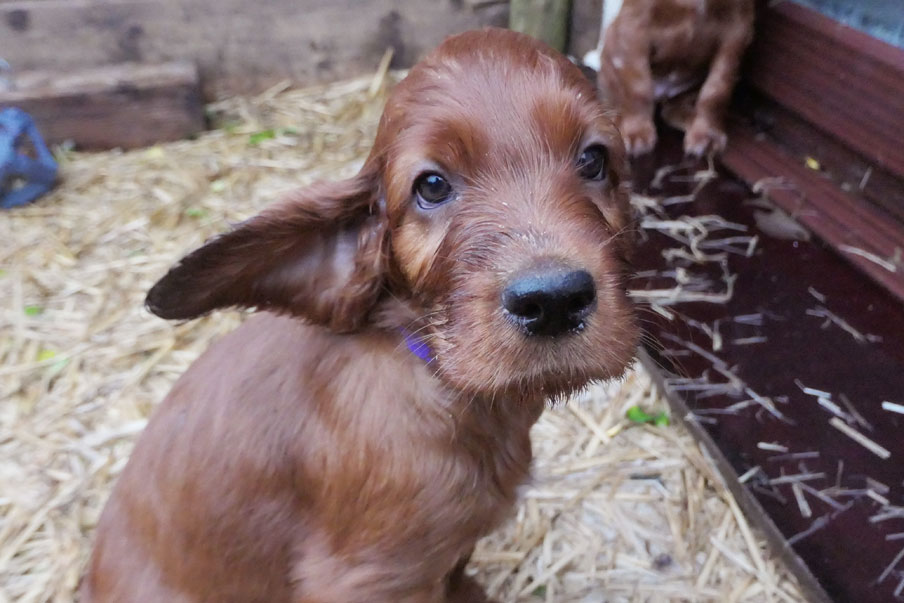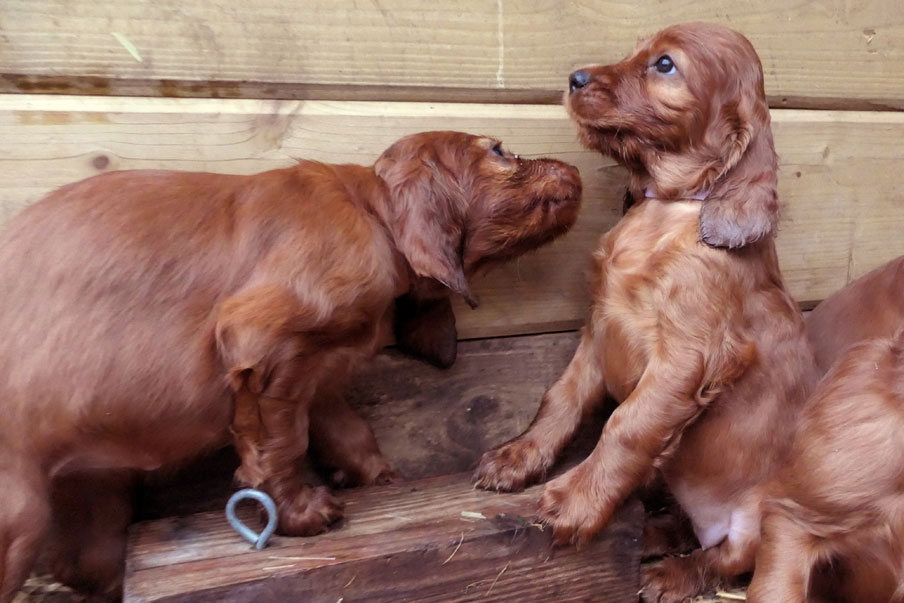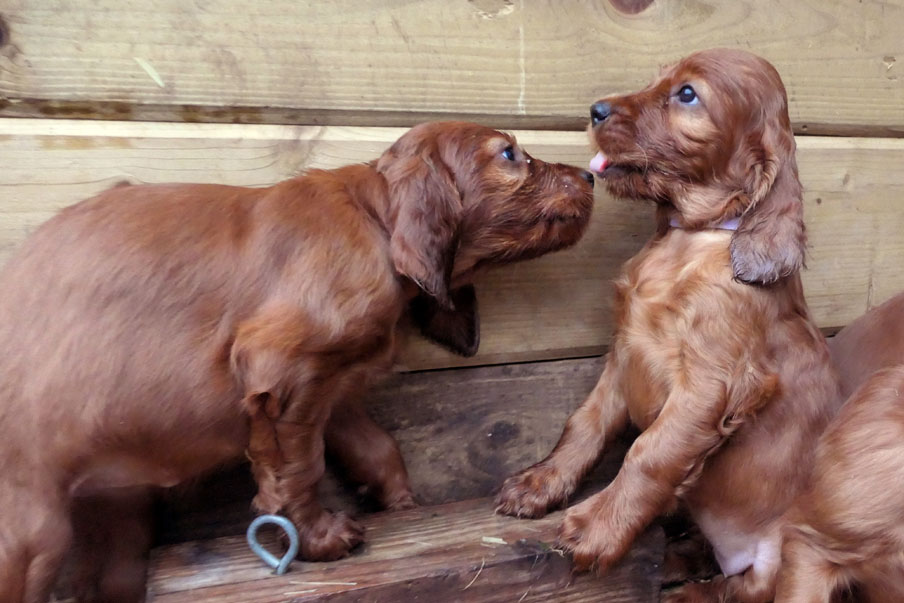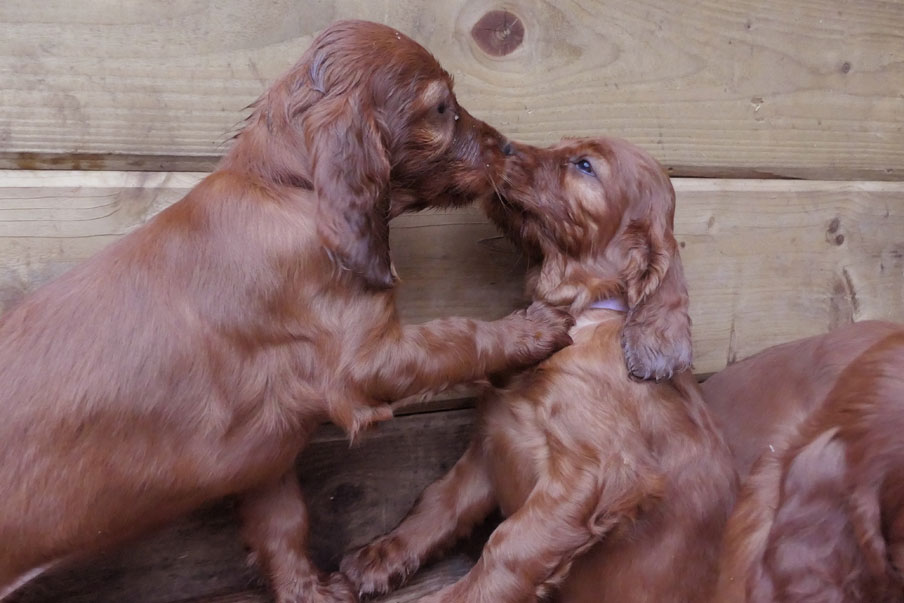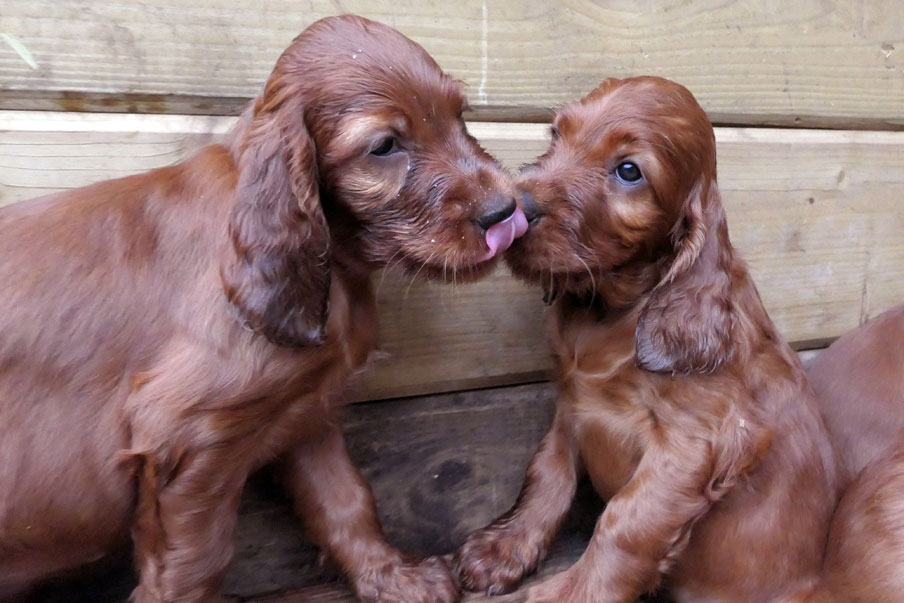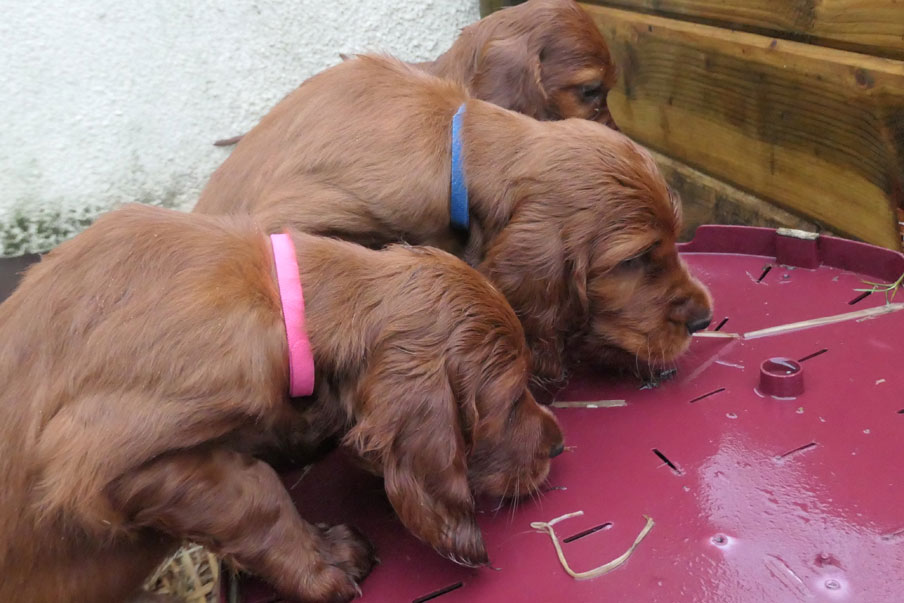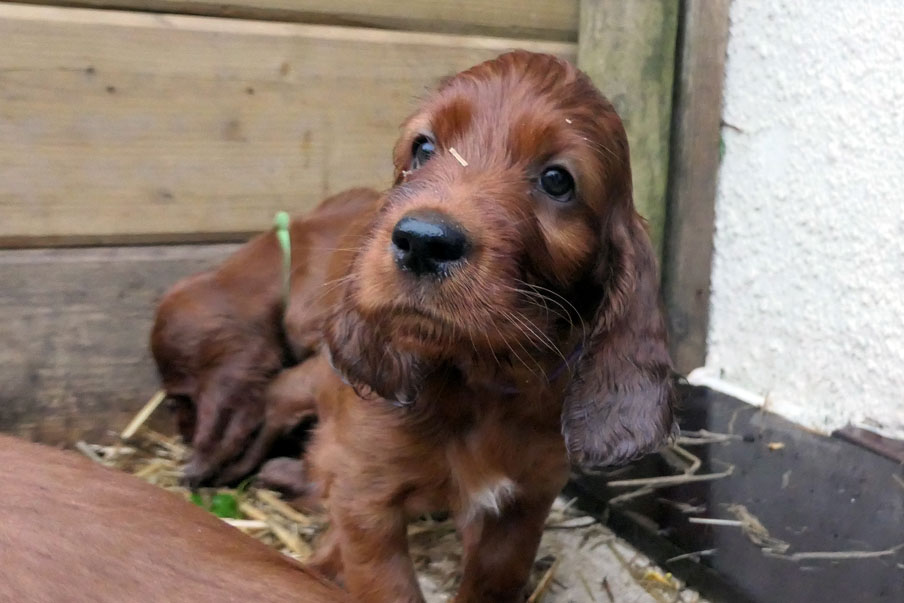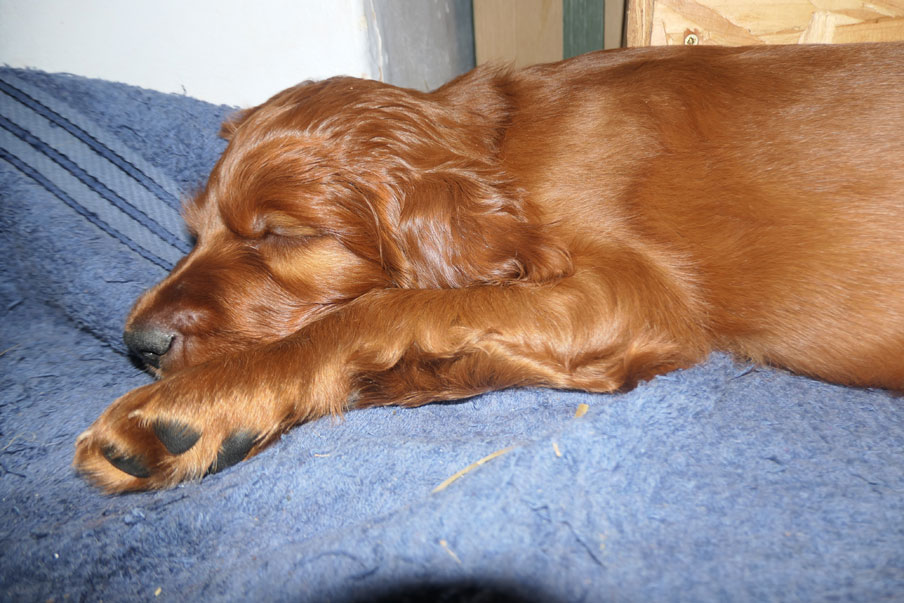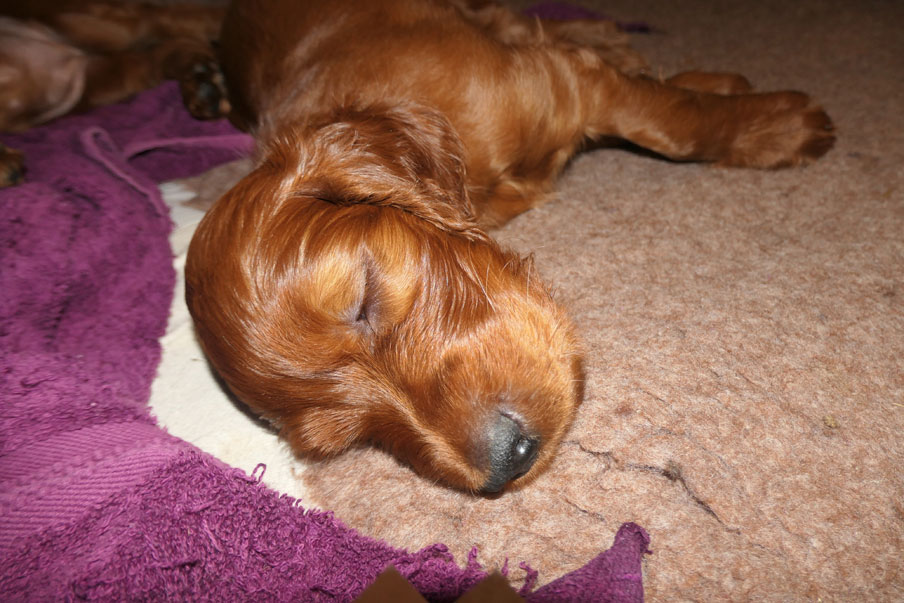 Forty-eight days old: Thursday 17th February
Puppy Posing and Canine Cuddles
As promised, today's blog is full of individual photos of the pups, thanks to Jeanette and Diana who came all the way from Oxford today for puppy cuddles, licks, nibbles and bounces.
We aimed for perfect stands and sits on a specially prepared table (two cardboard boxes with a towel on top) but when it became obvious the pups were too tired, a little unsure and far more interested in snuggling up, we abandoned ship and went to for the cuddle-in-arms approach. This worked so much better - hope you all agree.


Henry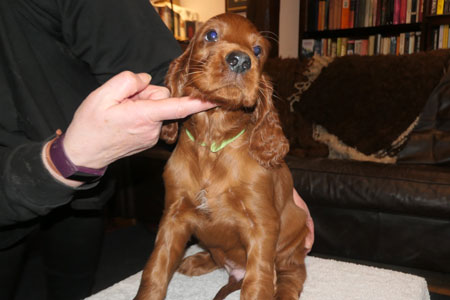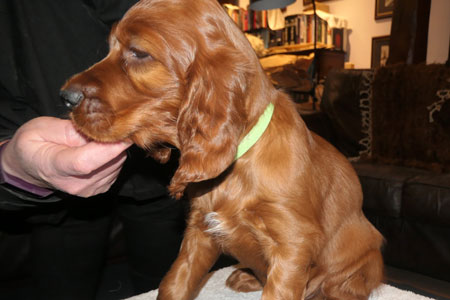 Ruby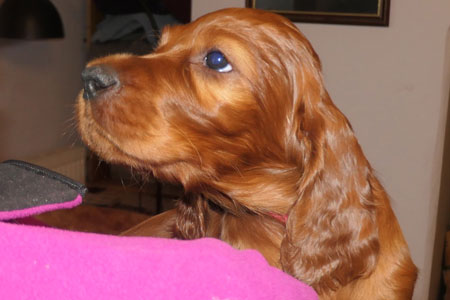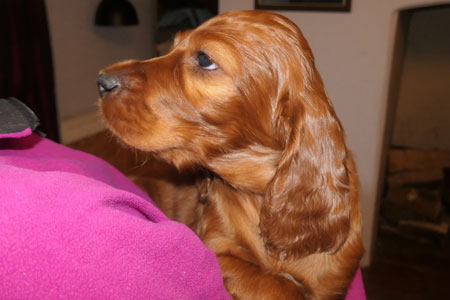 Jack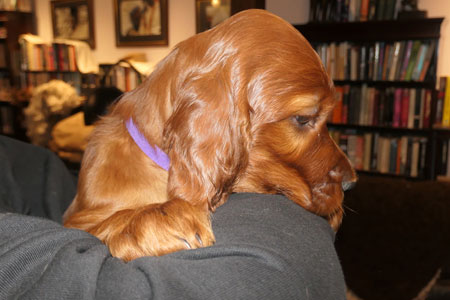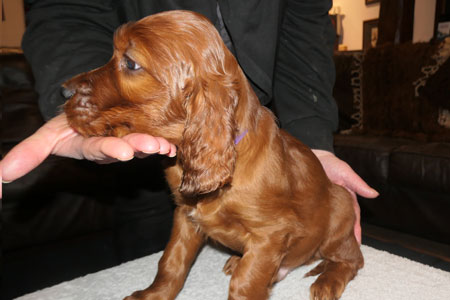 Biscuit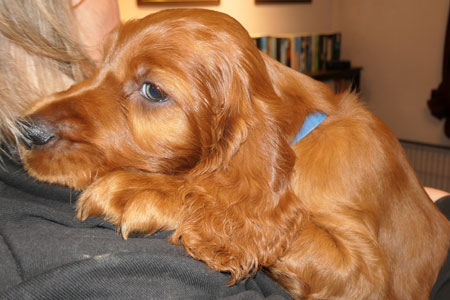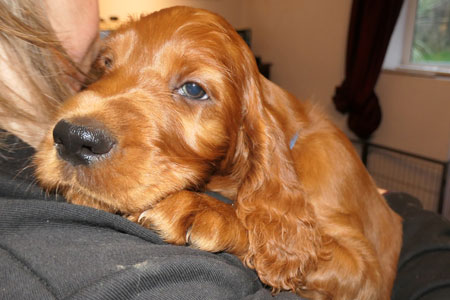 Bonnie Orange (now Brown)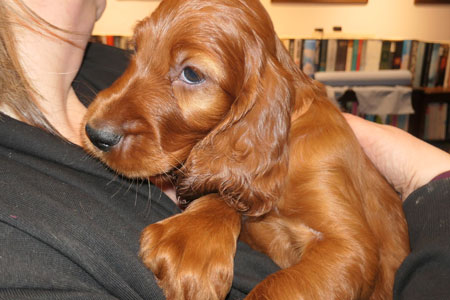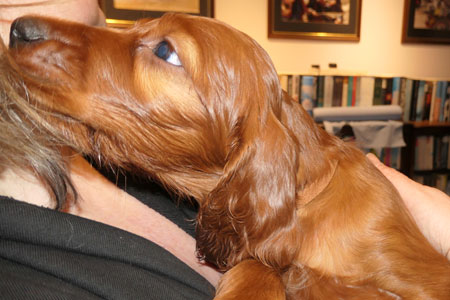 Kevin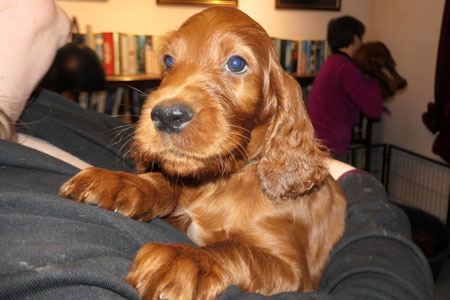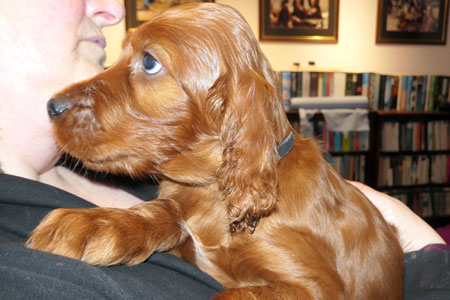 Elsa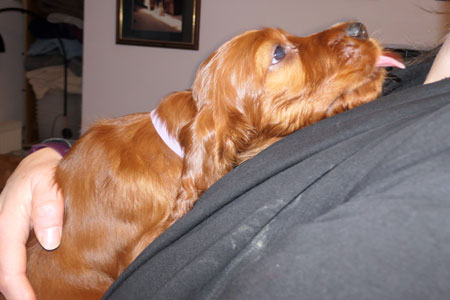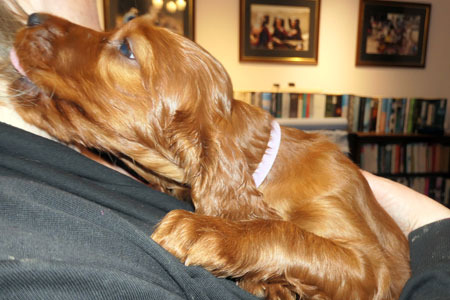 Bonnie Yellow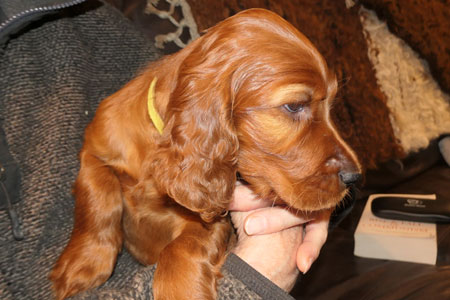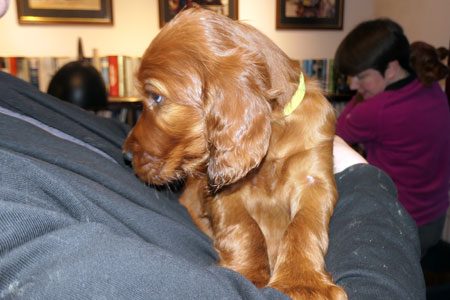 Charm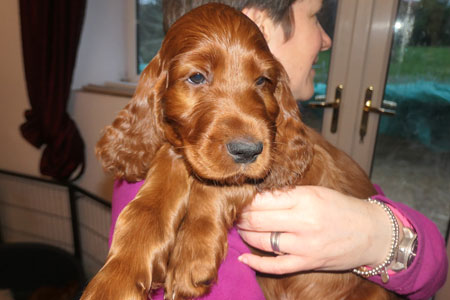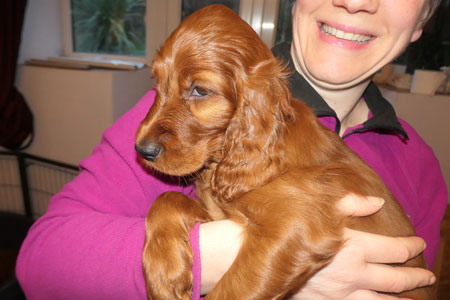 Otter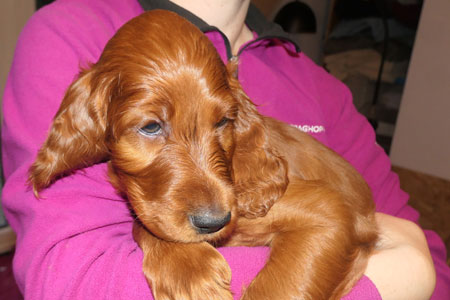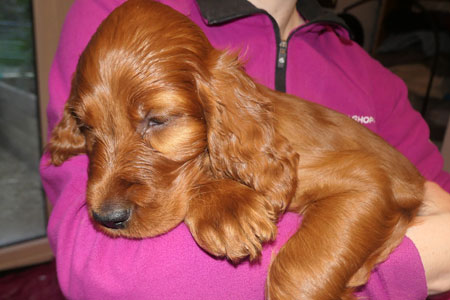 Seven weeks old and counting: Sunday 20th February
Storm Eunice, Power Cuts and Continuing Cuteness
Well... we have all had a fun few days!!! Storm Eunice hit us with a bit more enthusiasm than Storm Dudley and took out our power. When it became obvious we were in for the long haul, we dug out our '8 year old and never been used before generator' and managed to get power to our fridges/ freezers and Stanley range. This enabled us to both continue to have food and to cook it. The woodburner meant the front room was kept warm for the pups and the IBC tanks on the smallholding gave us water for both them and the dogs. We were a lot luckier than many.
But it has to be said, picking up puppy poo by torchlight, doesn't rate as one of our most enjoyable experiences!!
The pups themselves have continued to thrive. We managed to keep the straw run covered when we needed to and so most mealtimes and toilet breaks have been outside. We have naturally had to have a lot more inside-playtimes though and so the pups are now complete experts in totally trashing their run within seconds of us straightening it all out. If you need any paper shredding, these guys will do the job in seconds.

Serious play now happens far more often and for far longer. They adore tug of war, jousting (without the jousts - LOL), wrestling, ear chewing, dirty fighting (grabbing back legs), frenzied and synchronized barking (except it is still more of a 'yip' than a bark) and, a personal favourite, the pile up - which needs at least five to take part, four to do the piling and one to be buried!!

Looking at them now, they really are looking more and more like proper dogs. They still have puppy bellies but waists are now forming, back leg muscles are really well defined and faces are looking longer and more 'setter' like.
The photos below are mainly from Thursday and Friday. The last two are yesterday and today: eating under cover and trashing the run!! We have just about managed to have some from every day since they were born.
We will try to take a few more this week before the mass exodus begins and they start heading off for pastures new. We have to say, they are very ready for this stage now - we know that the sibling interaction will be missed at first, but there is another world waiting for them with their new owners, and they are sooo ready to start exploring it.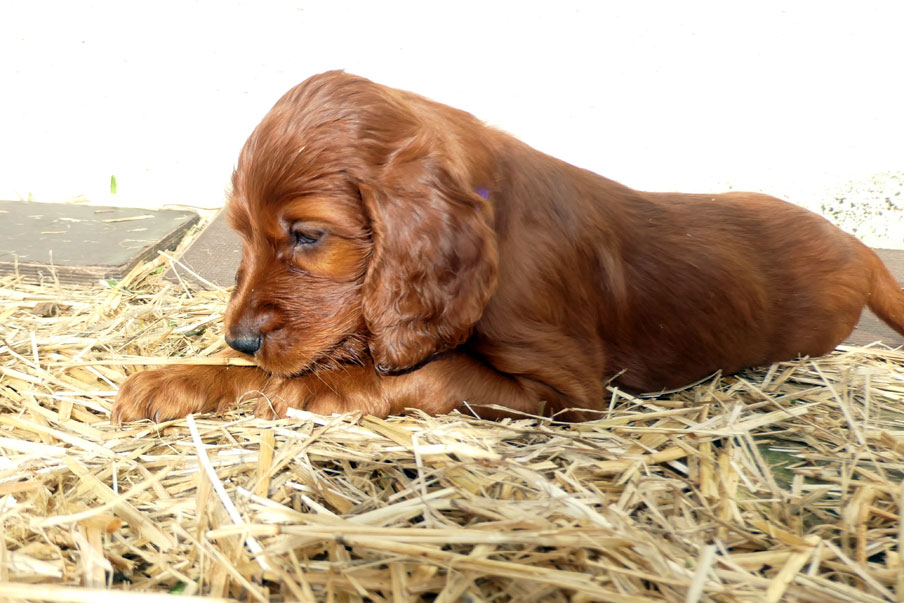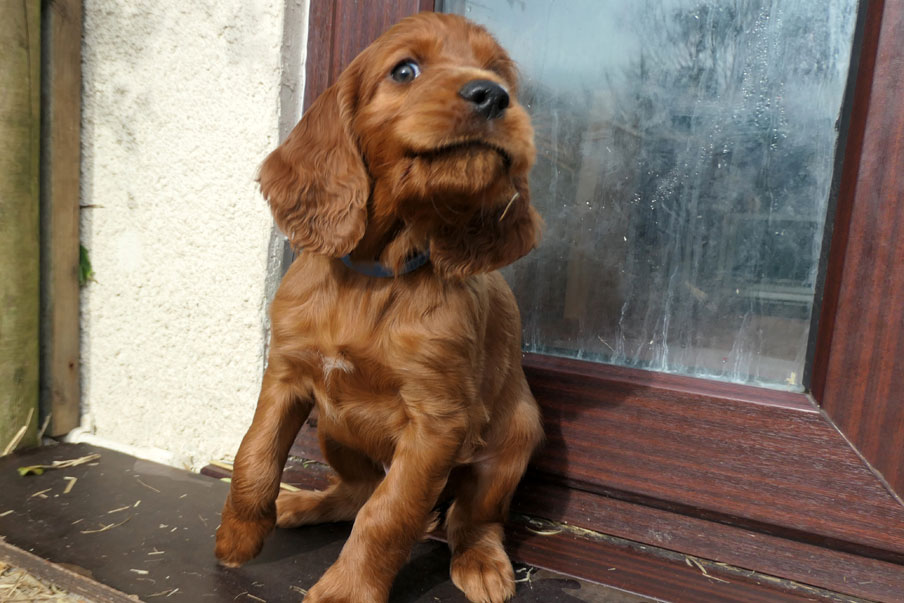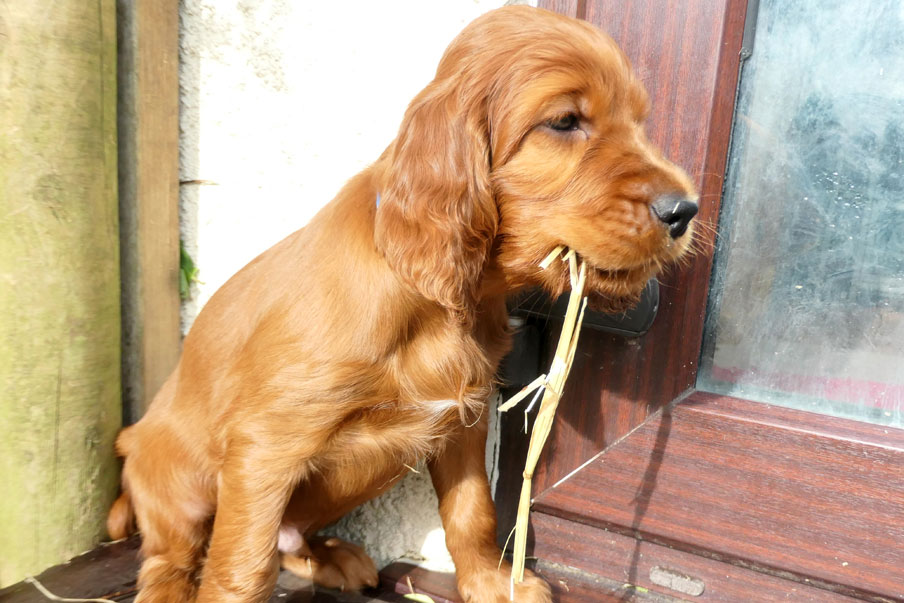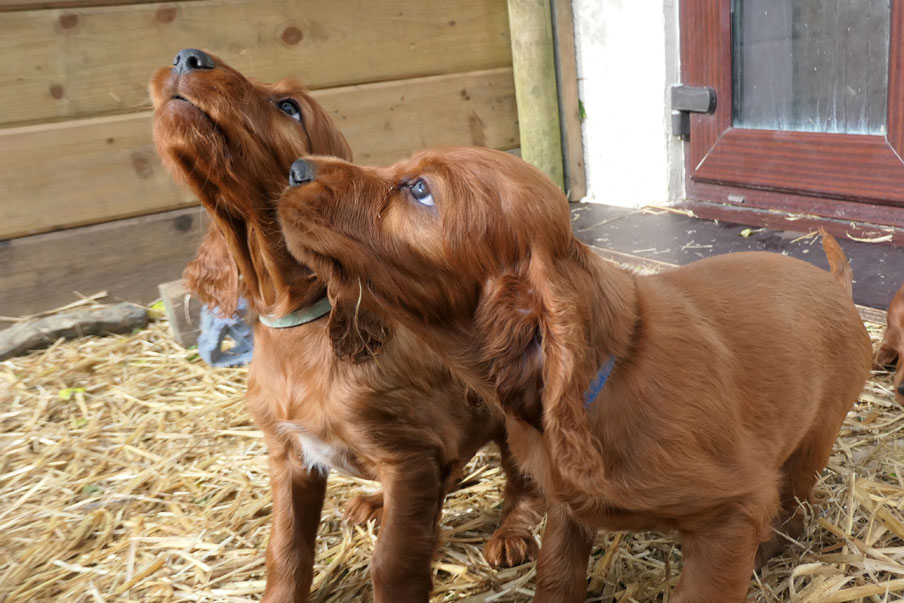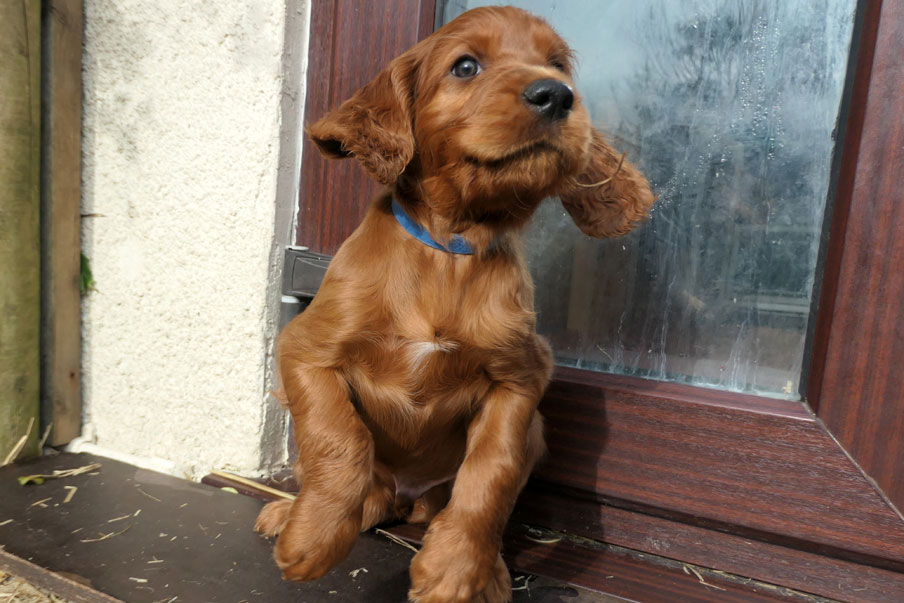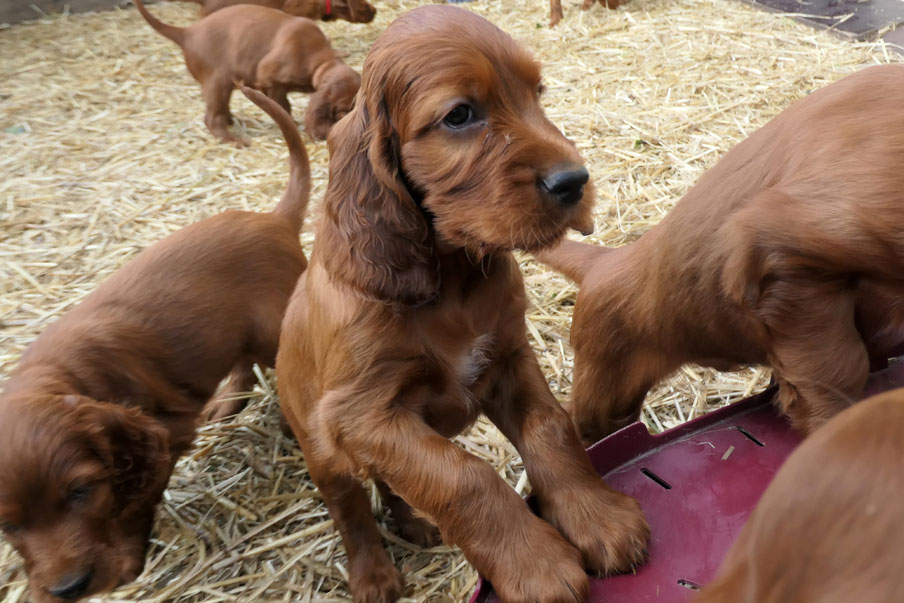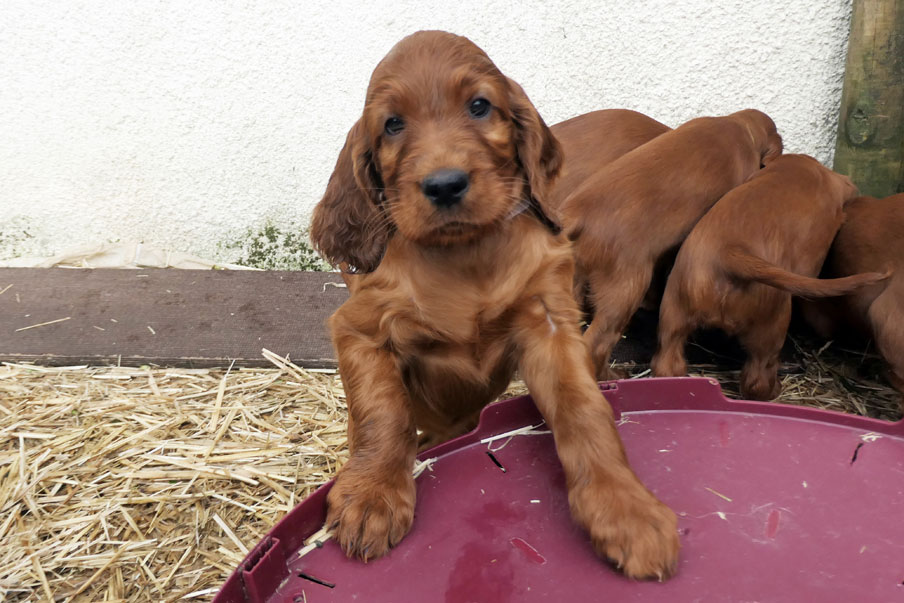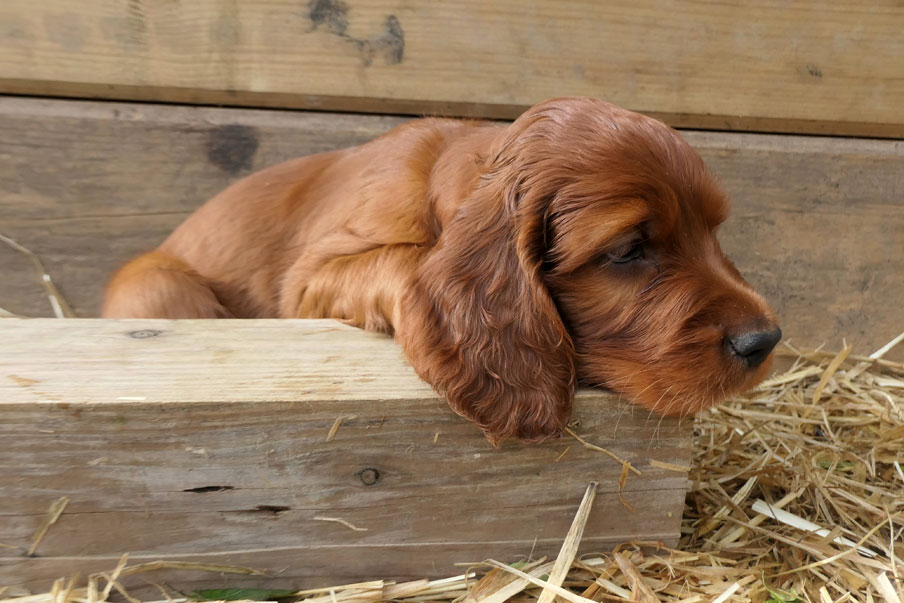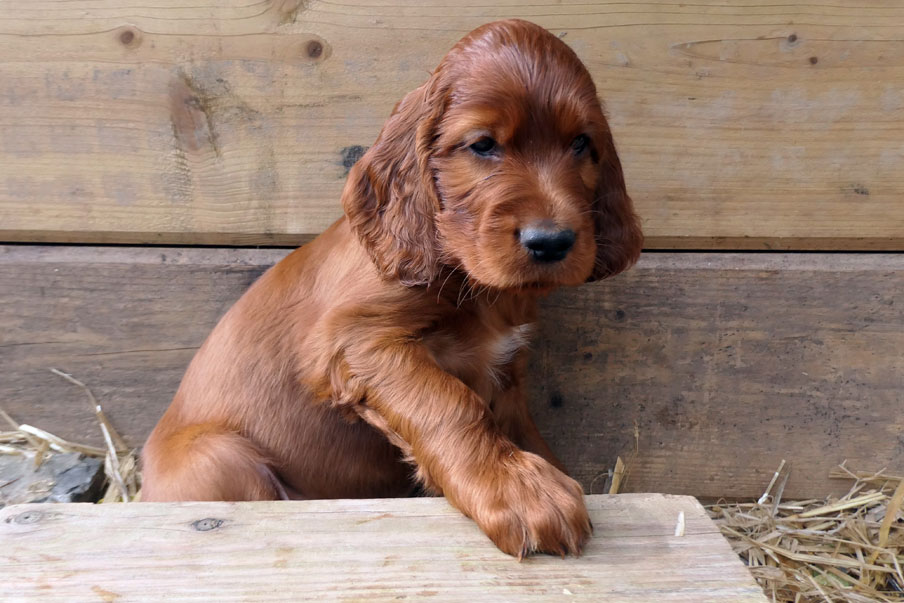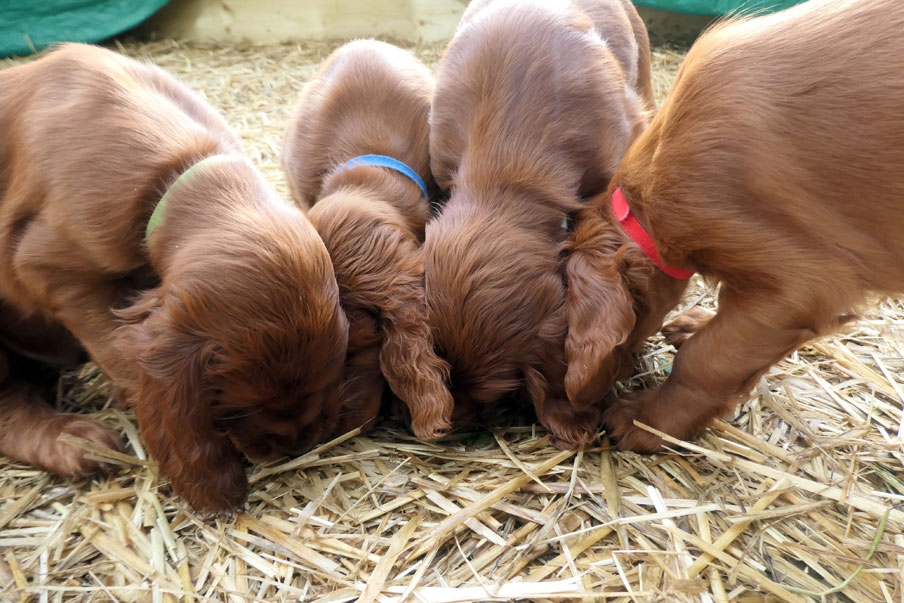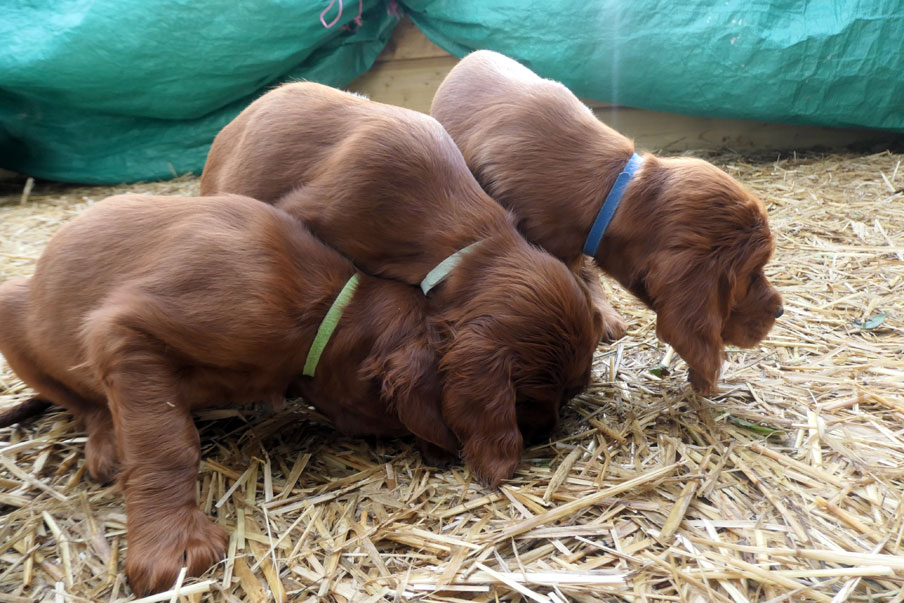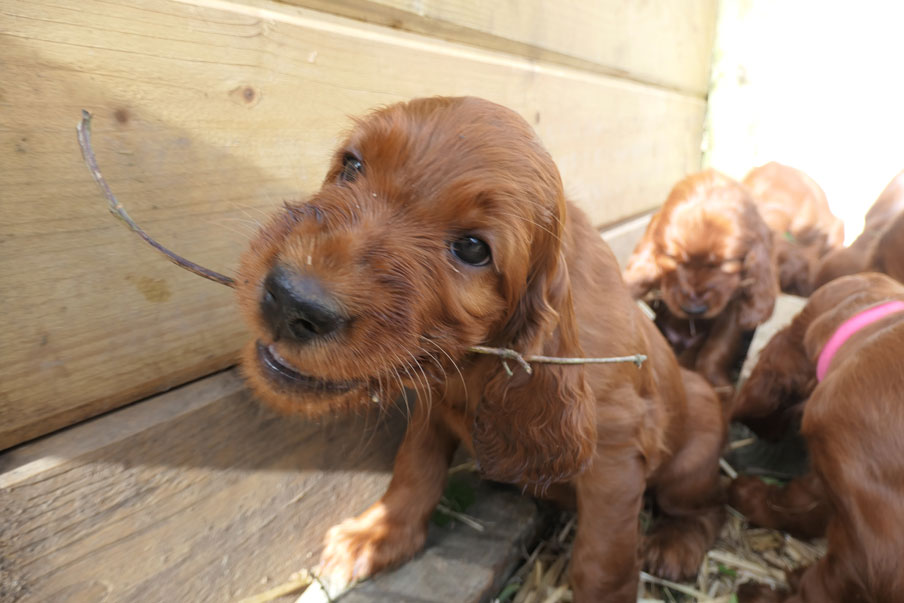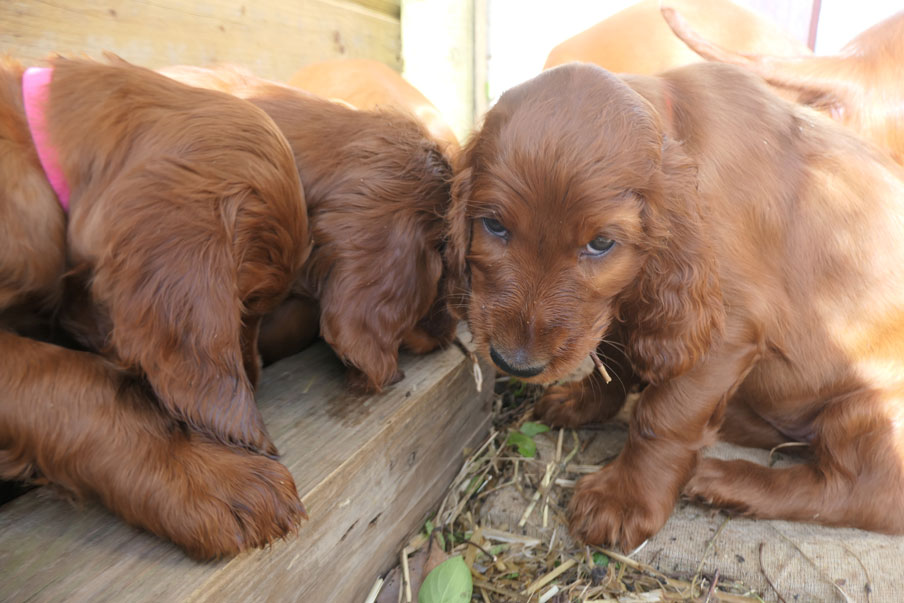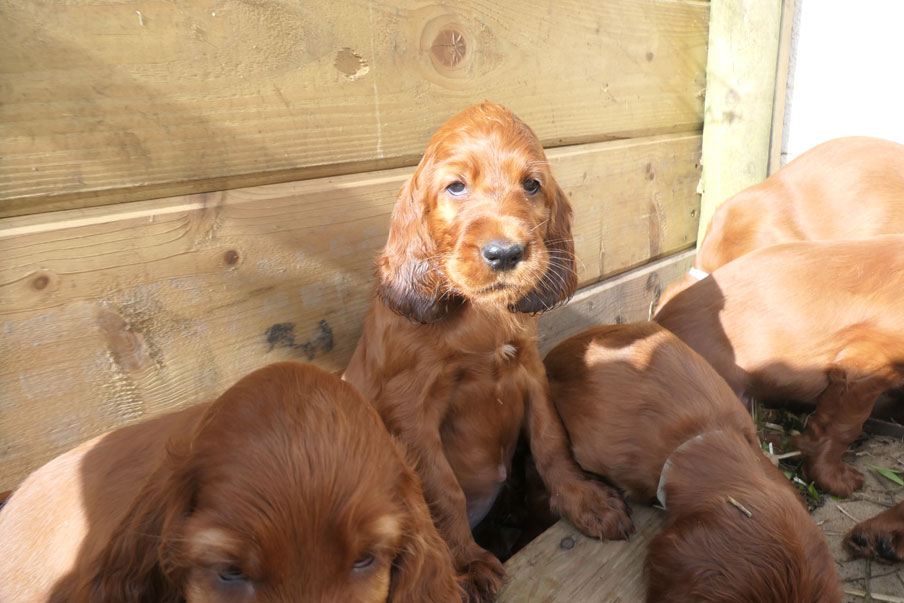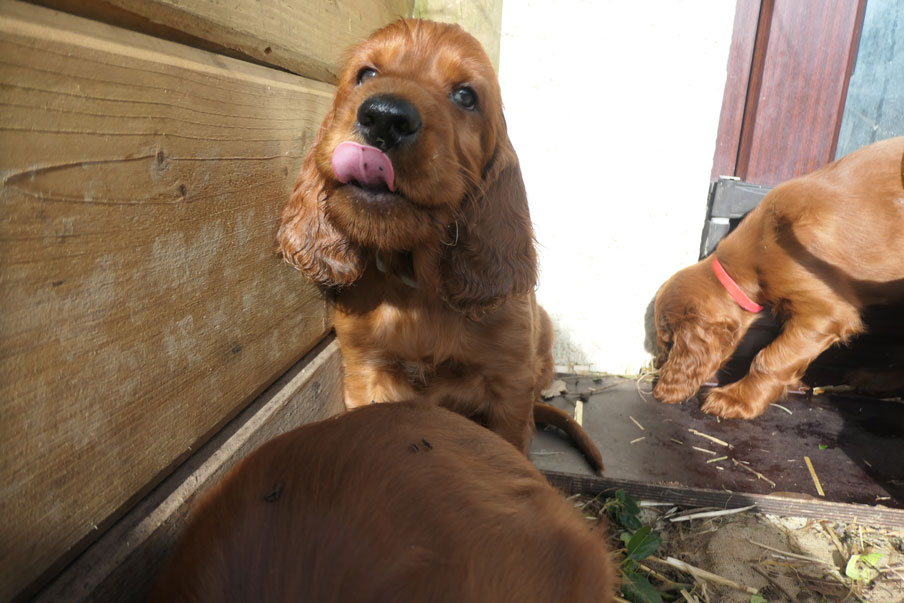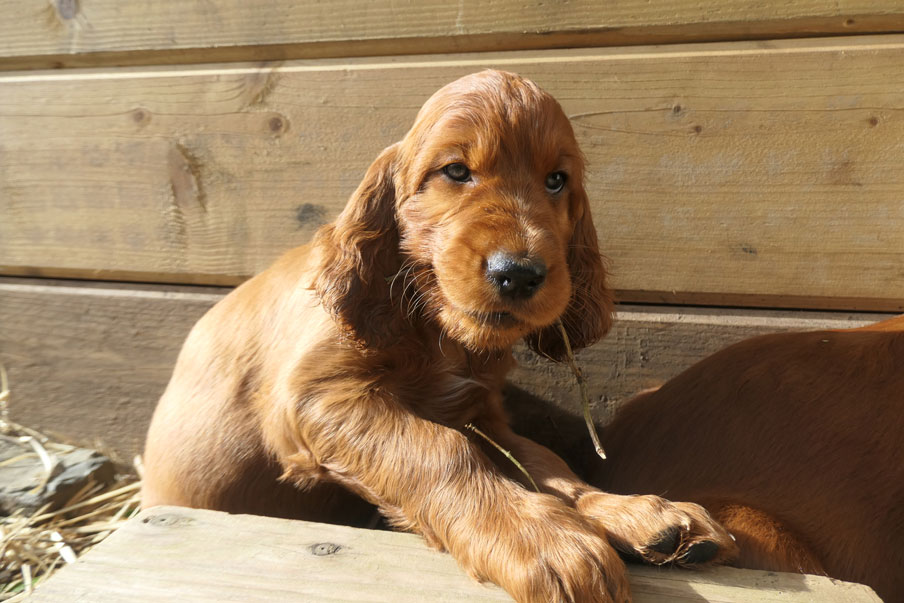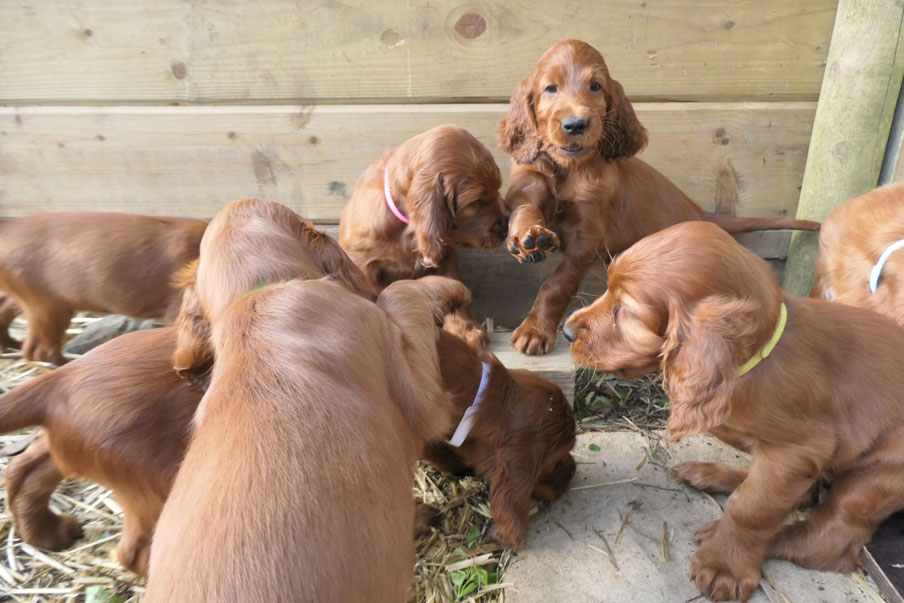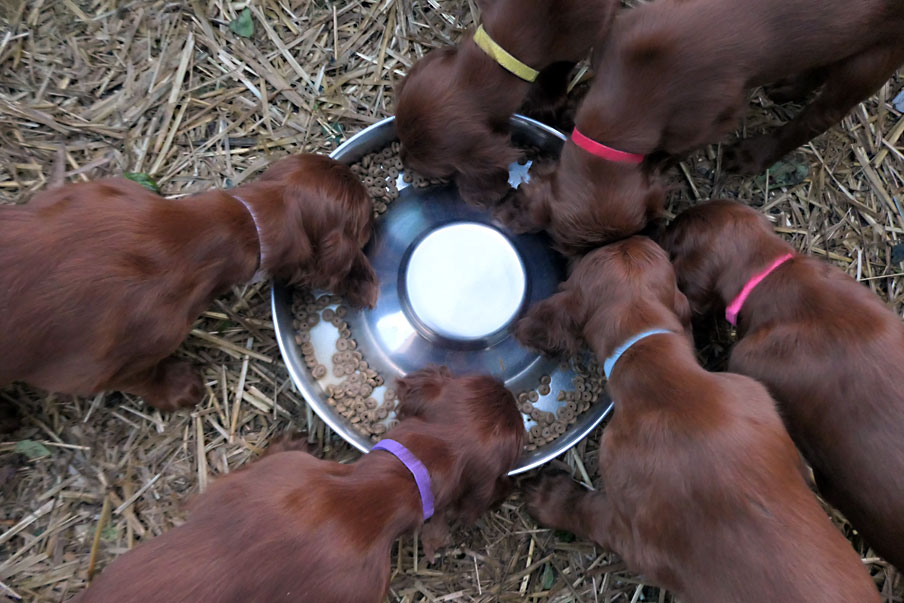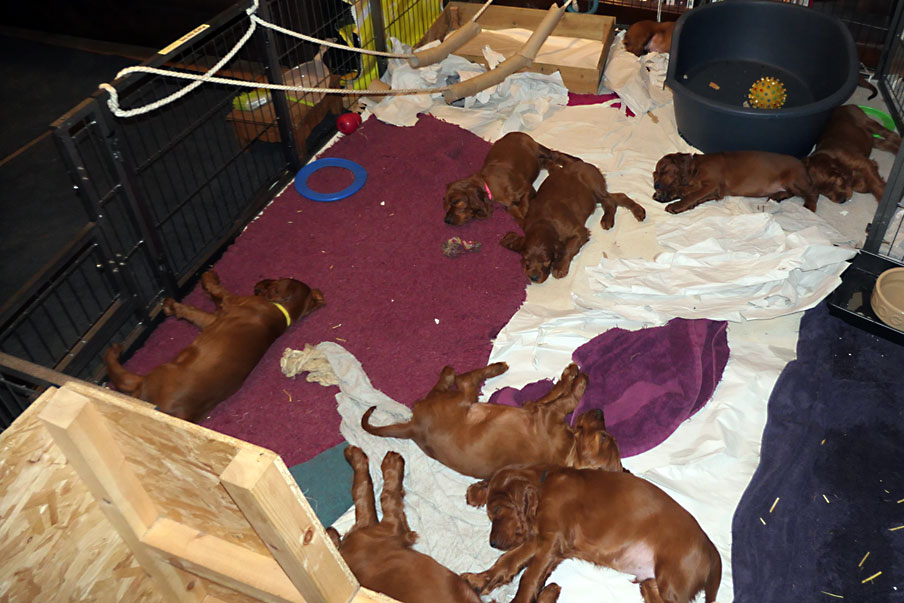 Days fifty-two to fifty-three: Tuesday 22nd February
Sunshine and Straw
As the storms have abated and the wind had reduced, outside playtimes have become longer and longer. Tonight, after the evening feed, we left the door between the inside and outside pens open and it was over an hour later that the first pups began to flag and head back indoors. As we type this they are all totally out for the count in a big heap on their bed. There is something utterly delicious about tired pups, fast asleep, bodies twitching as the muscles relax and grow...
We put a huge of fresh, dry straw in the run today - oh my word, they were wild. We took a video which we hope to post on this page tomorrow. We can honestly say it was 'the' best entertainment. Straw has to be one of the best playthings ever: they run through it, over it and under it: they grabbed mouthfuls and shook it, they played rough and tumble in it. They didn't stop for well over half an hour!!
Play is such a huge huge part of the pups' development now - through it they are learning so much: how hard to bite, or not; what feels good for their teeth, or not; what hurts and what doesn't; how much they can bite each other; what smells amazing and what they need to leave well alone (their own poo for one).
They are becoming so much more aware of their surroundings: some watched David with fascination as he hung out the washing this afternoon (their bedding we might add); they look up at Stonefly and Sparrow when they lean over and peer in the run; every new item we put in their run is immediately inspected; they have huge fun with all the leaves that have blown into the straw.
They also react far more to us, to our voices and movements. And when they engage eye contact with us - well, heart melting moments of what??
Life is very very exciting for these pups just now, and when they leave here for their new homes, it is only going to get more so.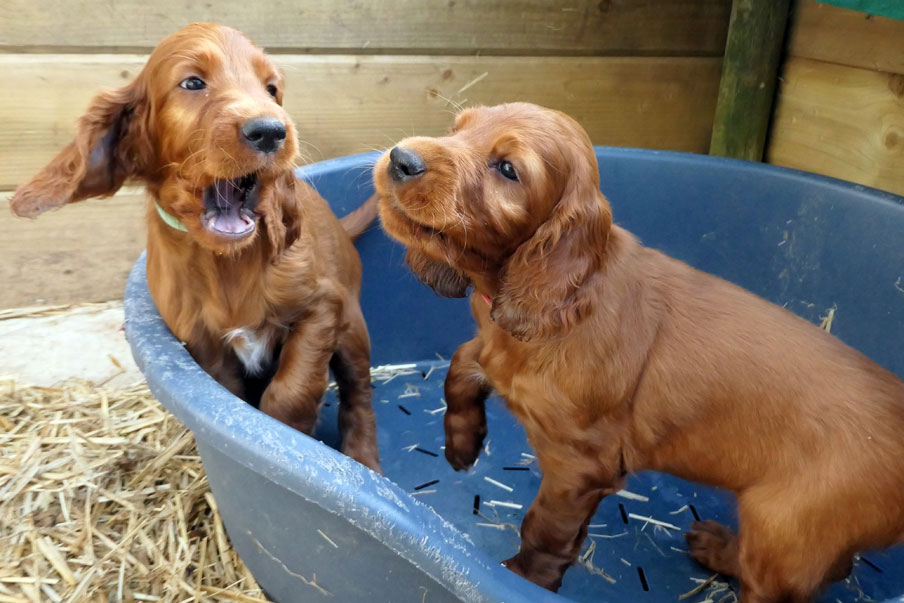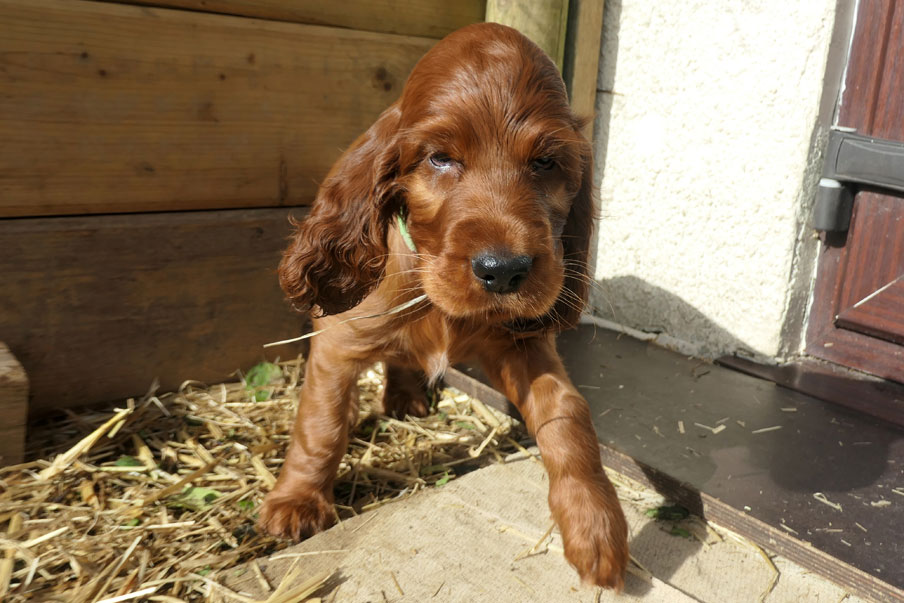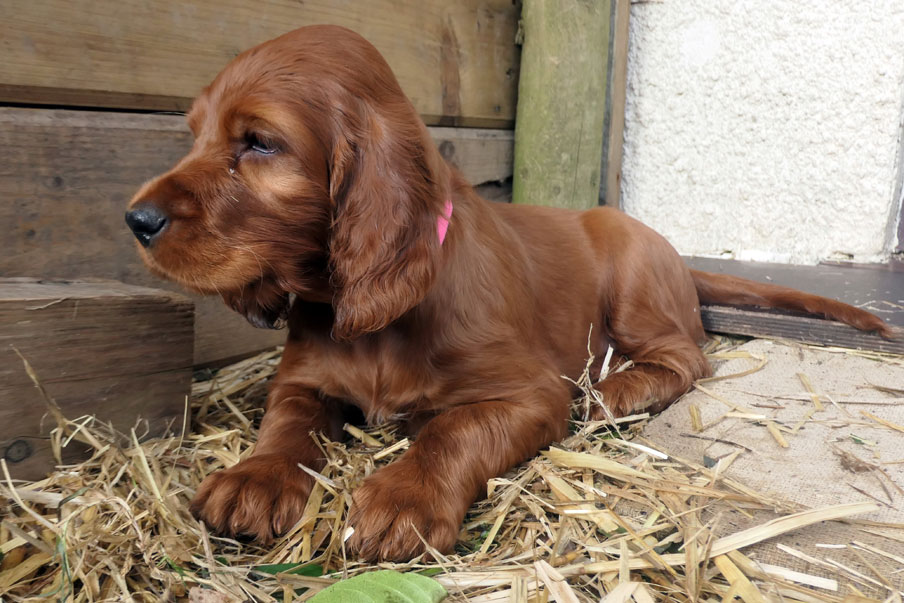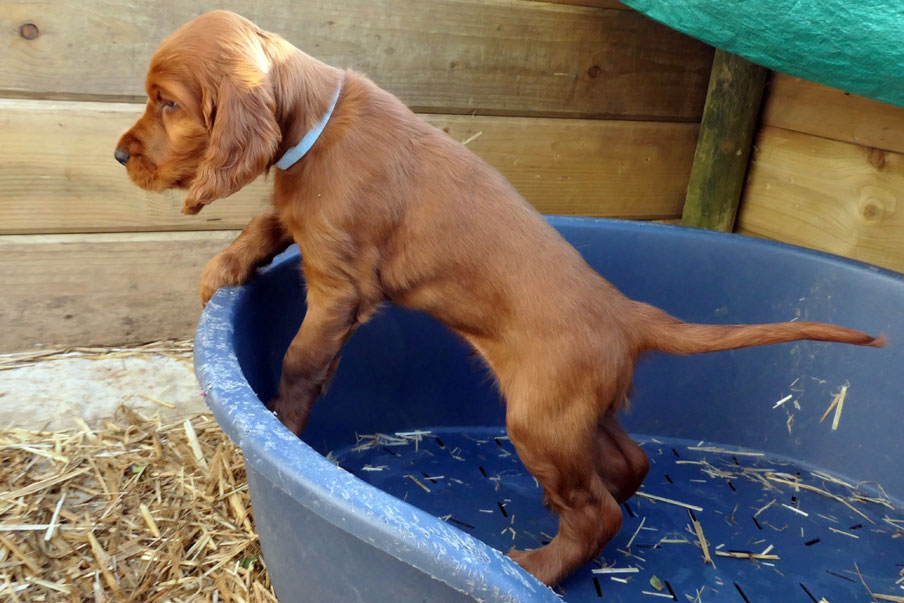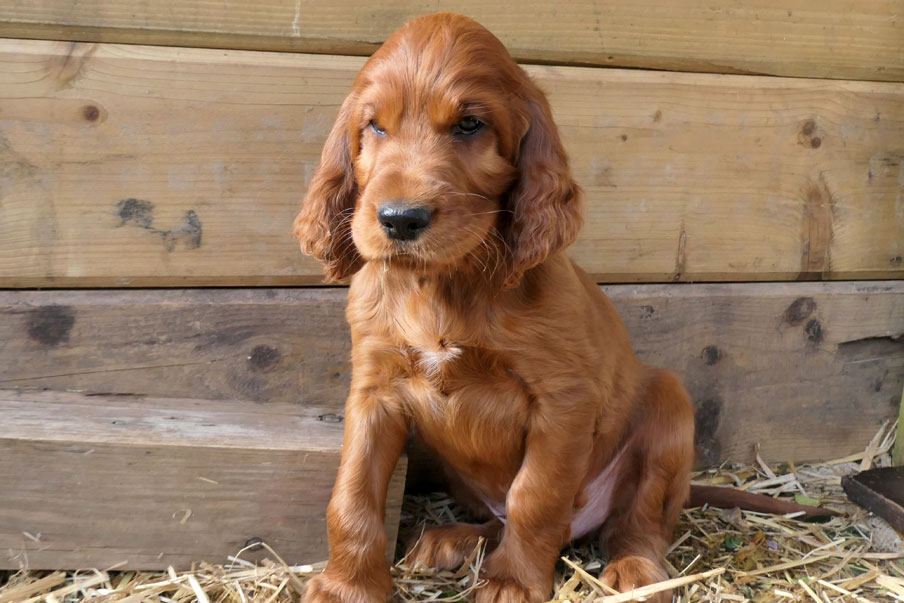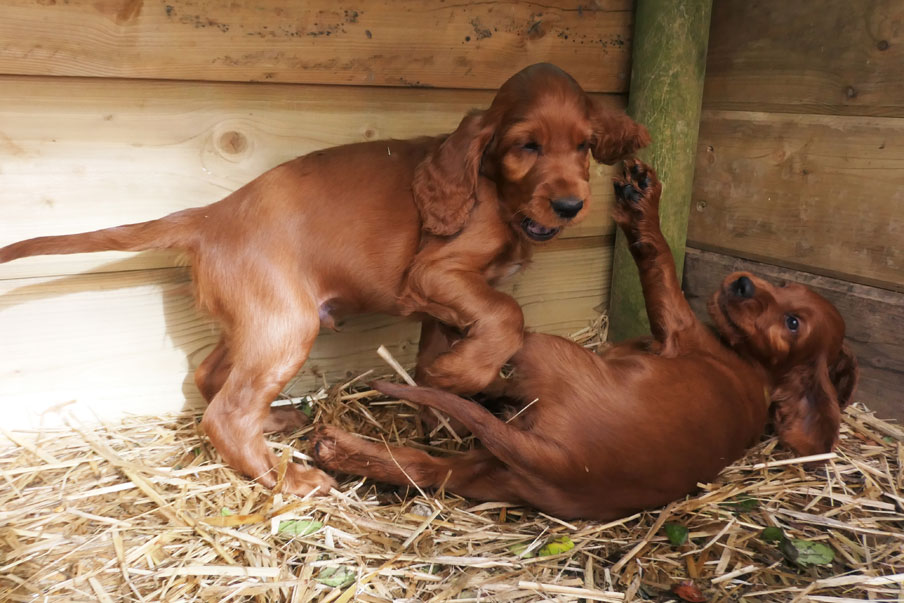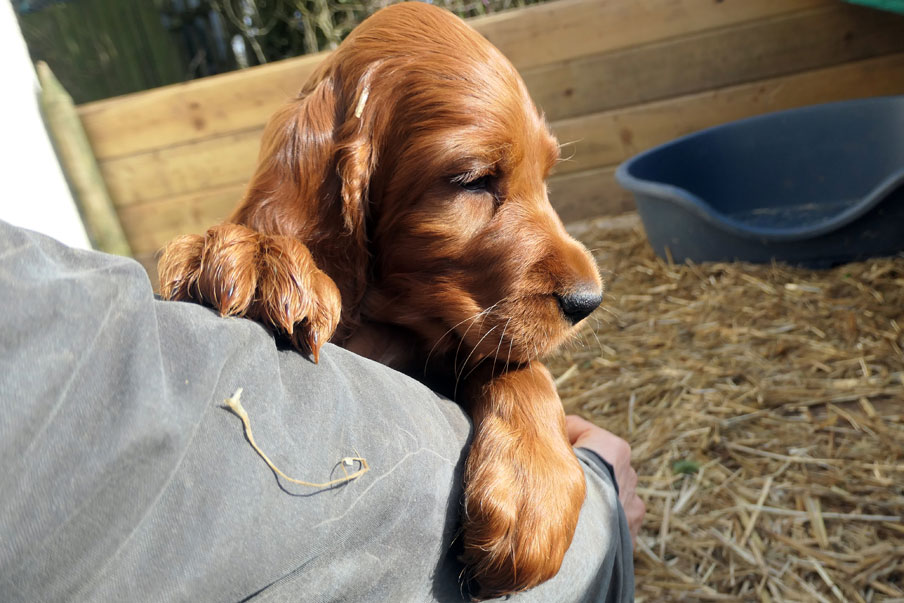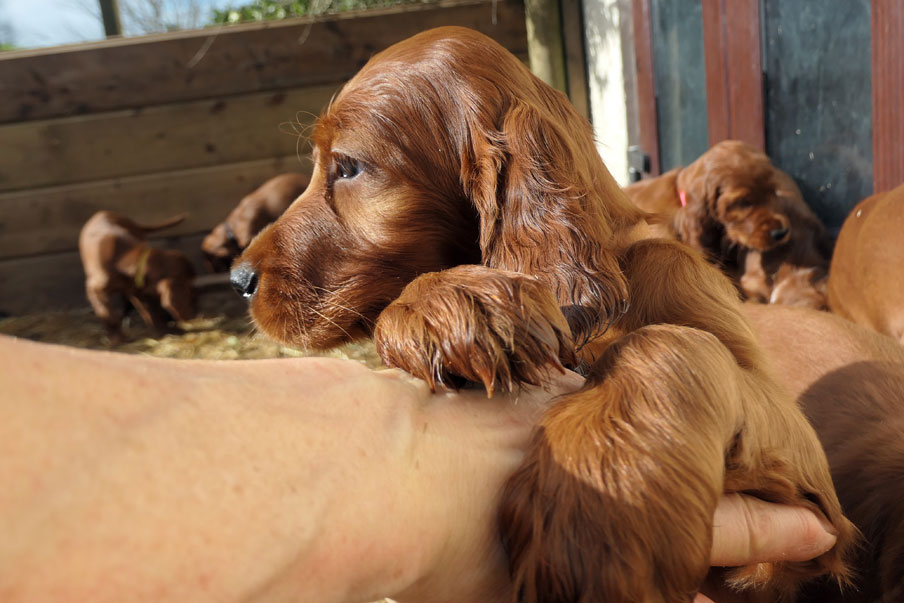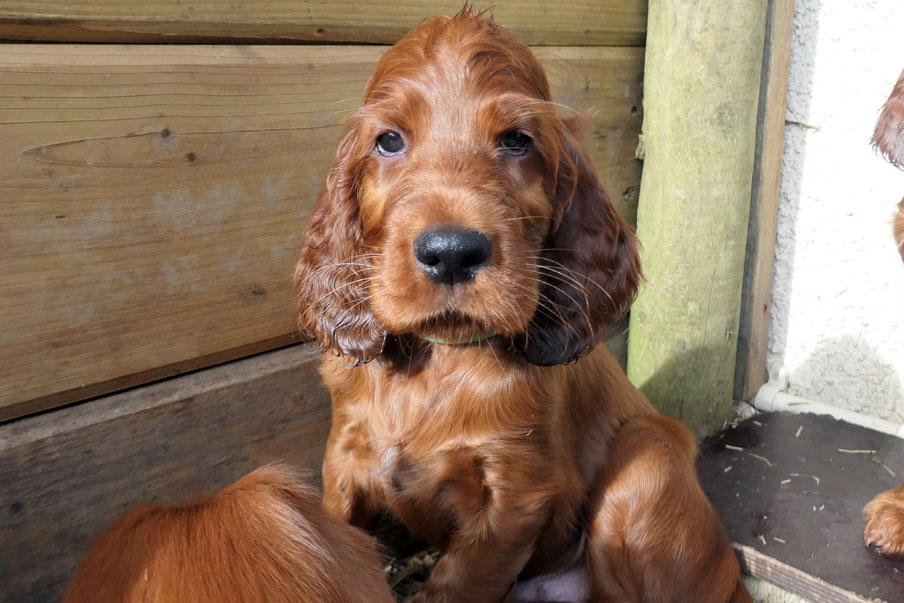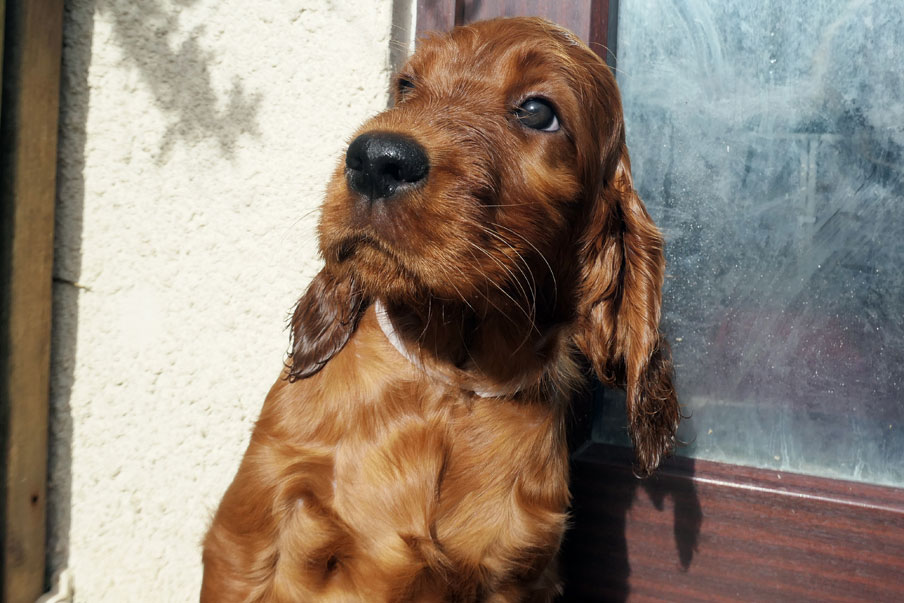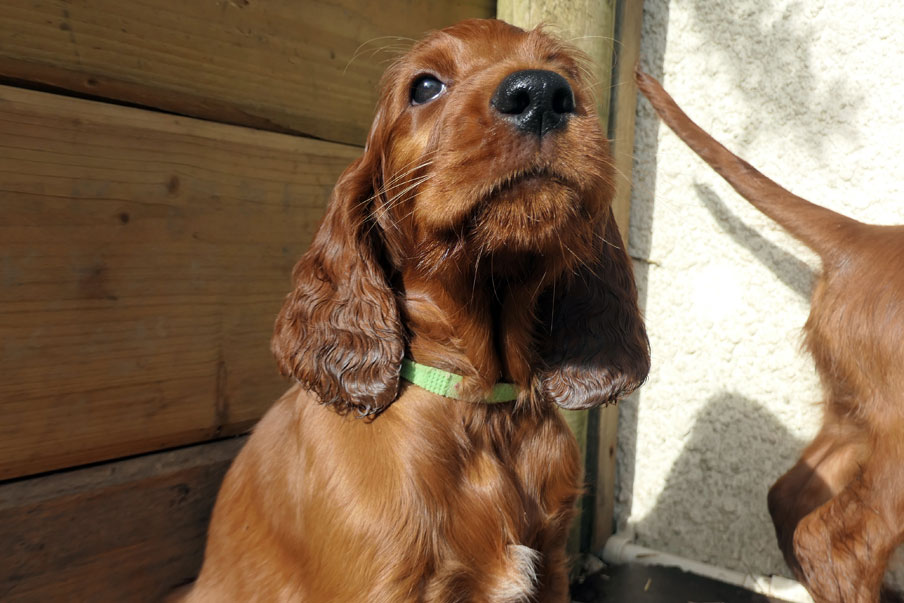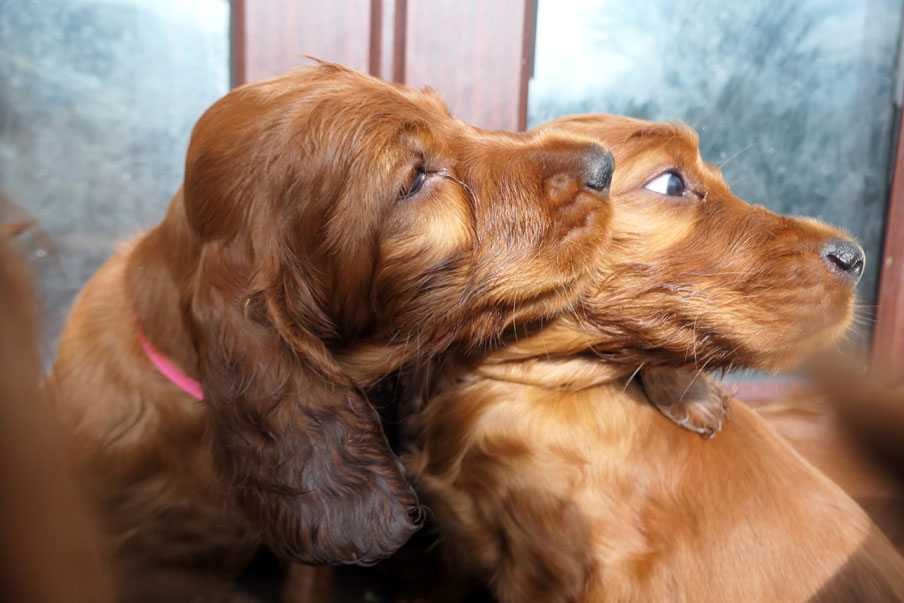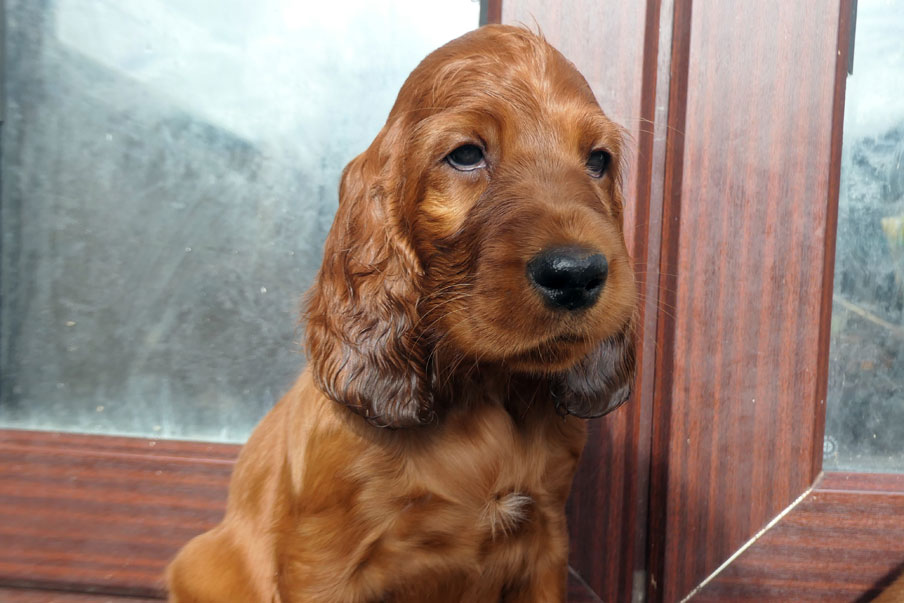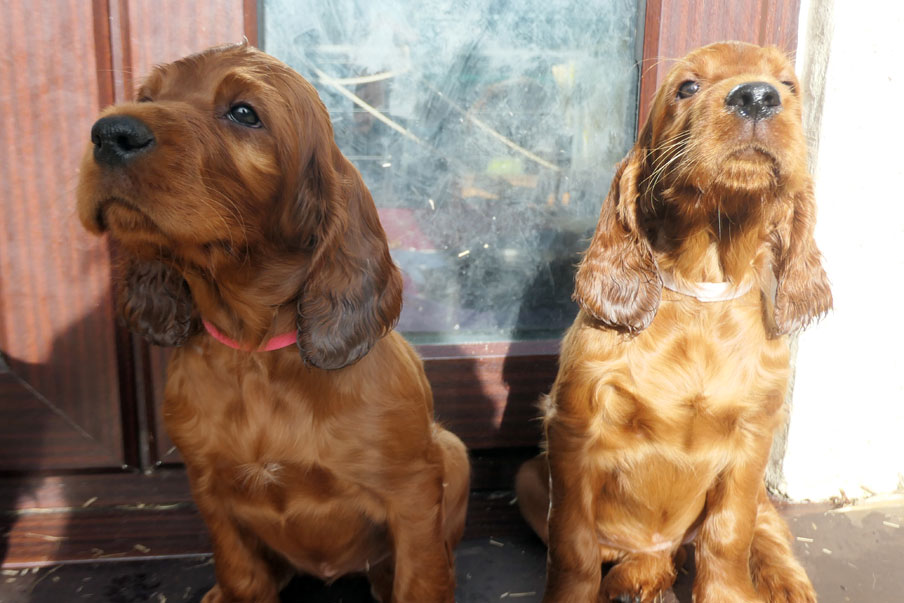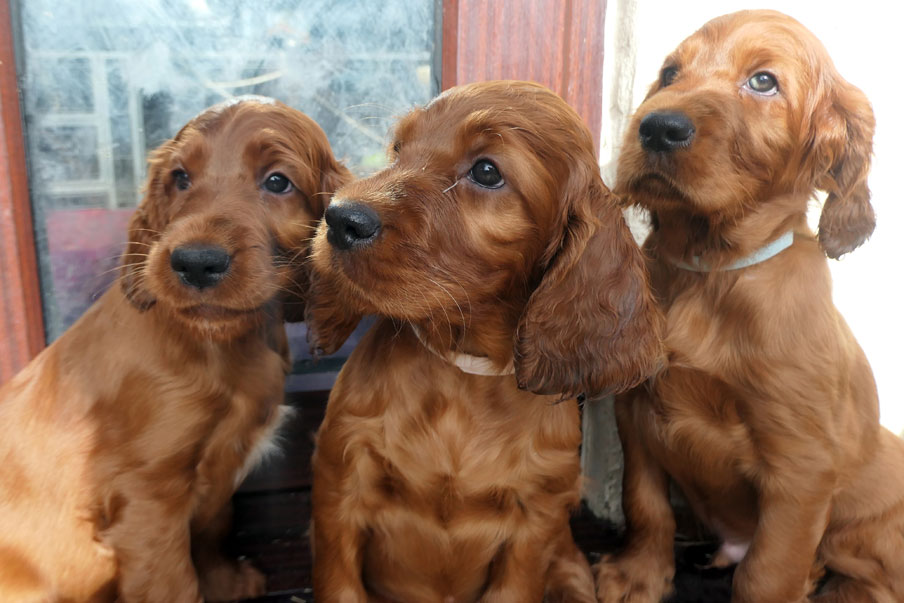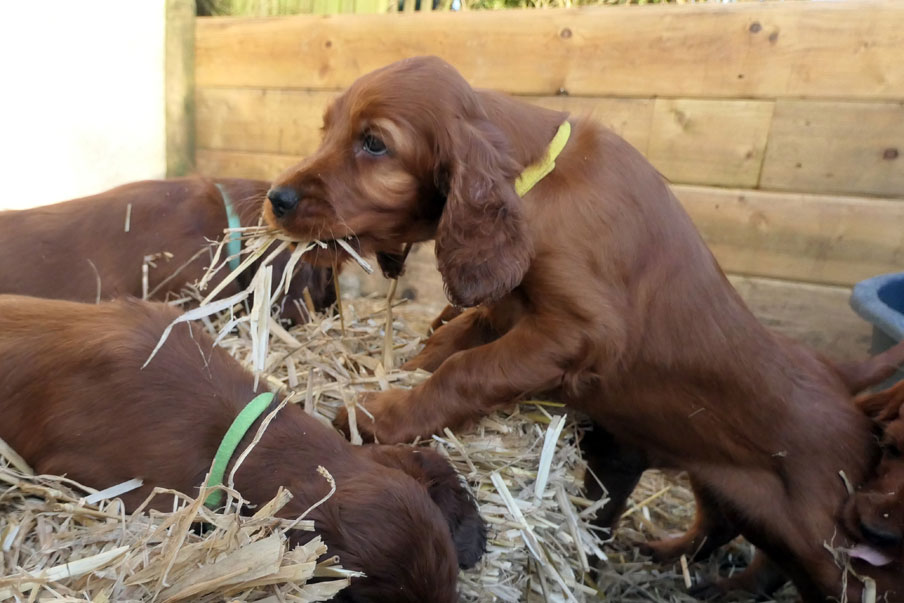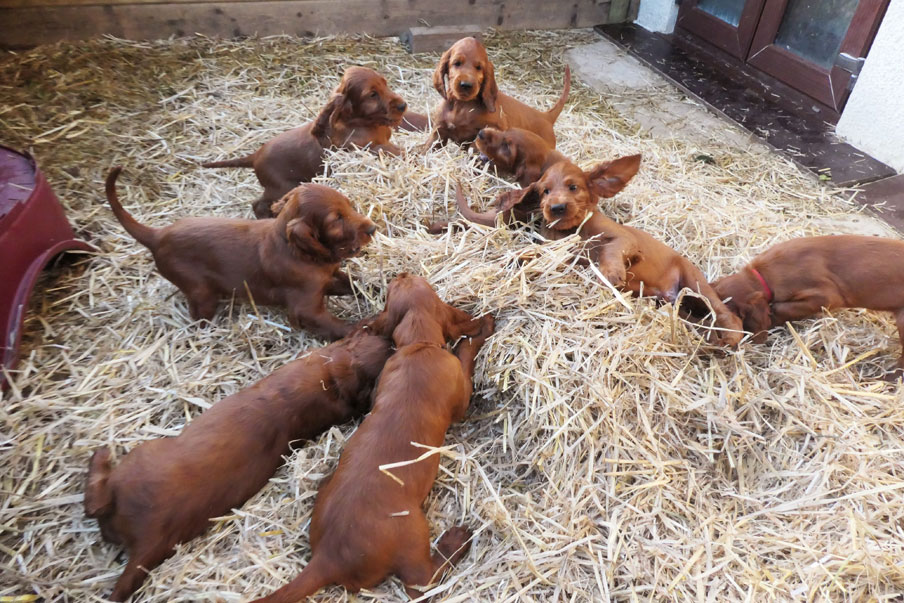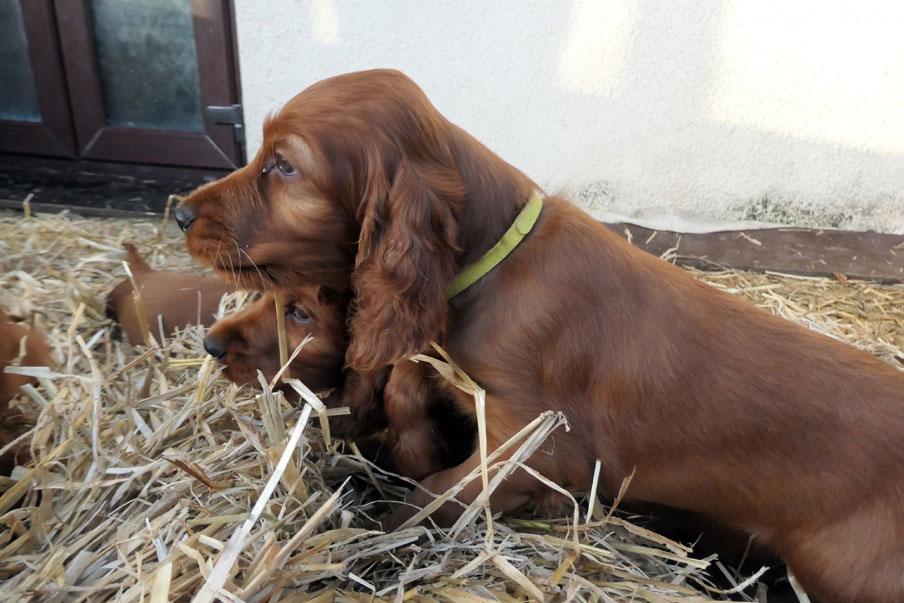 Days fifty-four: Wednesday 23rd February
Sleepy pups and manic straw video from yesterday
The pups have had quite a quiet day today - yesterday's manic-ness has obviously caught up with them. They have still enjoyed lots of time outside but they have 'mooched' rather than raced, and today's visitors were treated to the sight of a pile of pups, all lying in a heap, doe-ey eyed and sleepy!!

They really are such handsome dogs - and we think they know this already!!

Today's blog is a wonderful juxaposition of sleepy photos and a manic straw filled video - enjoy!!
(Oh and Bonnie Orange is now Bonnie Brown and Elsa is now sporting a white collar.)

If your browser does not support video directly, you can
download it
instead.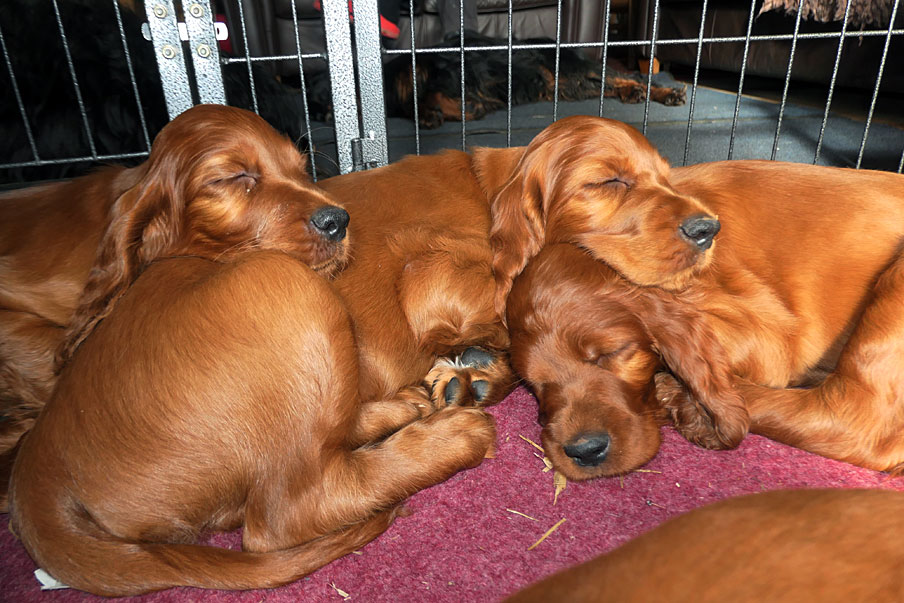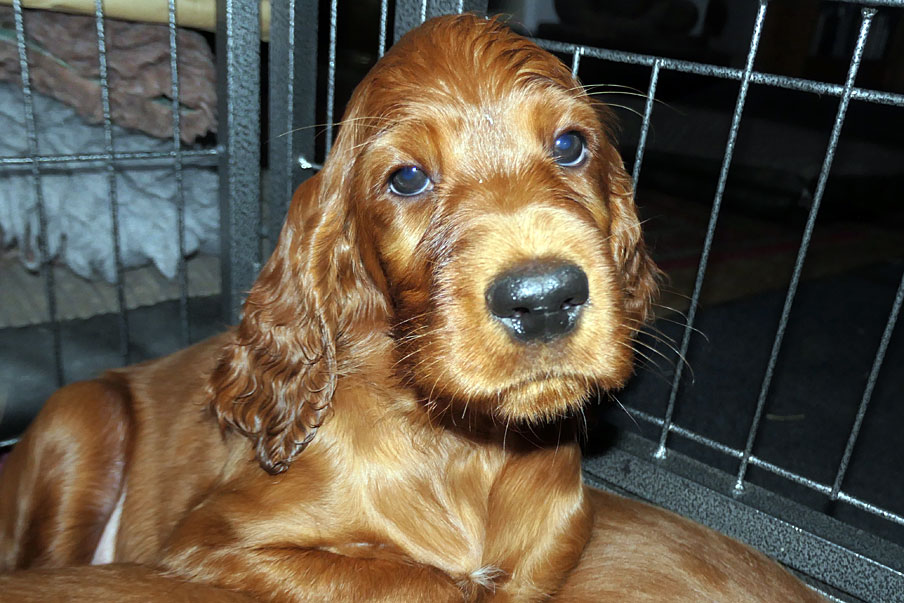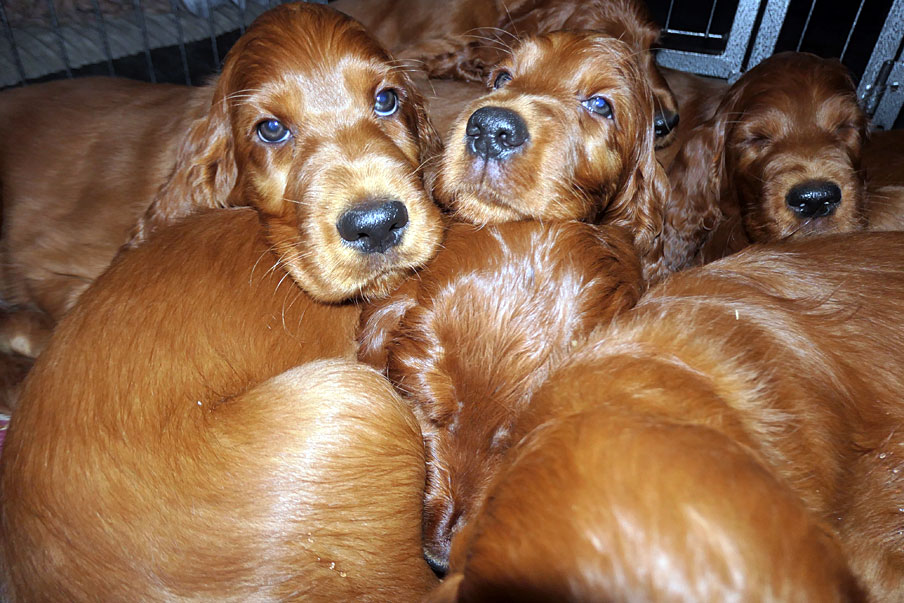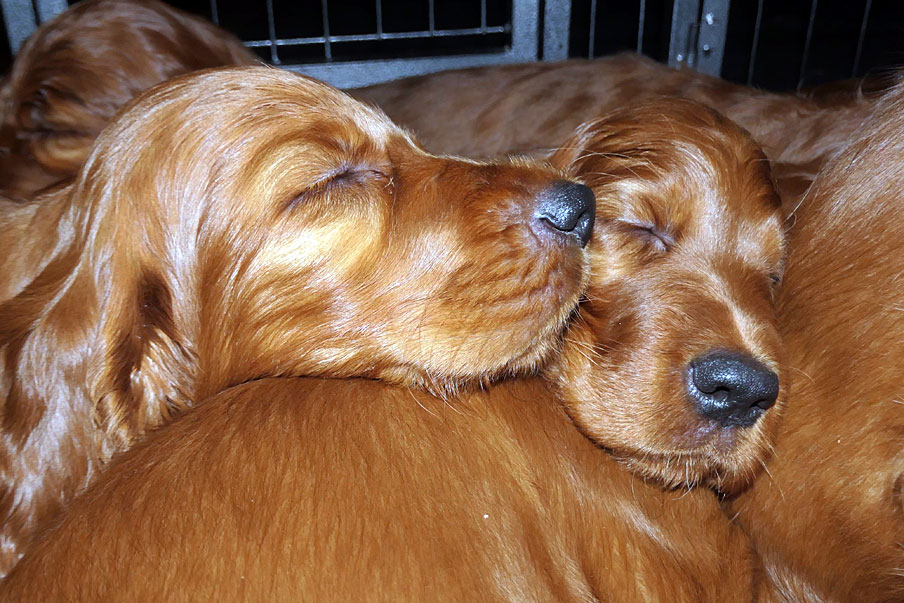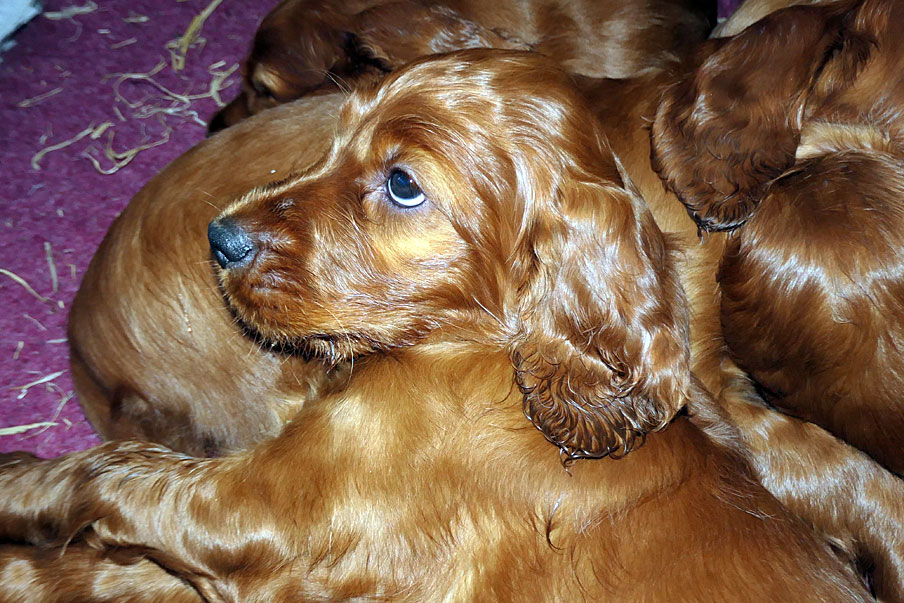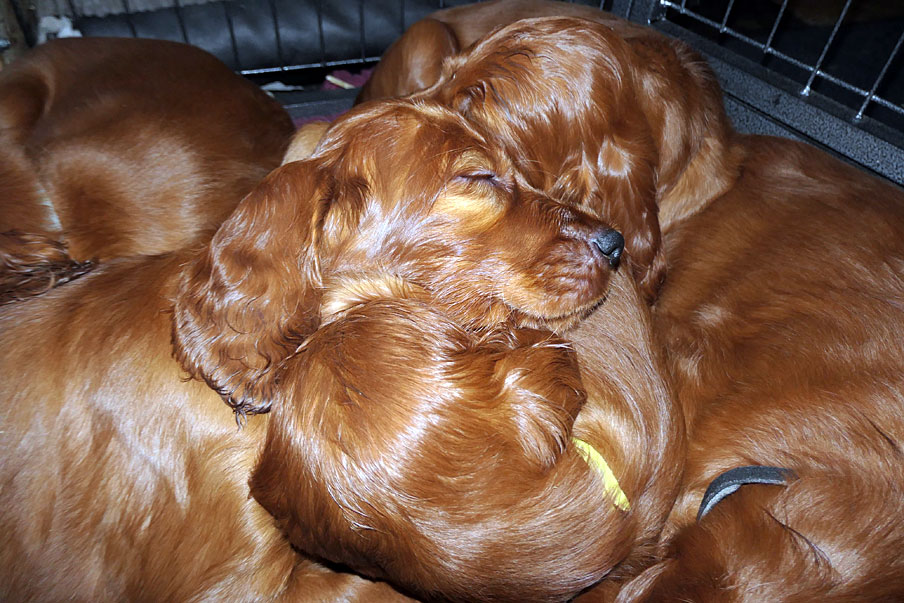 Pastures News
And so the exodus begins as our gorgeous litter make their way to their new homes. Yes, we will shed a few tears and yes, we will miss them but oh my goodness, are we thrilled to bits with all their new owners and the truly fantastic lives we know they are now going to have?? Lucky, lucky pups. Thank you so much to you all.xxxx

Jack (Purple Collar) off to South Devon with M. and M.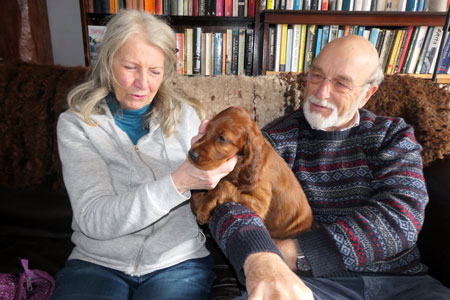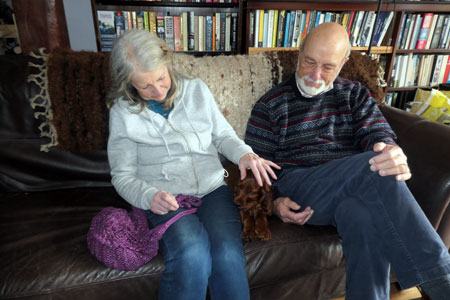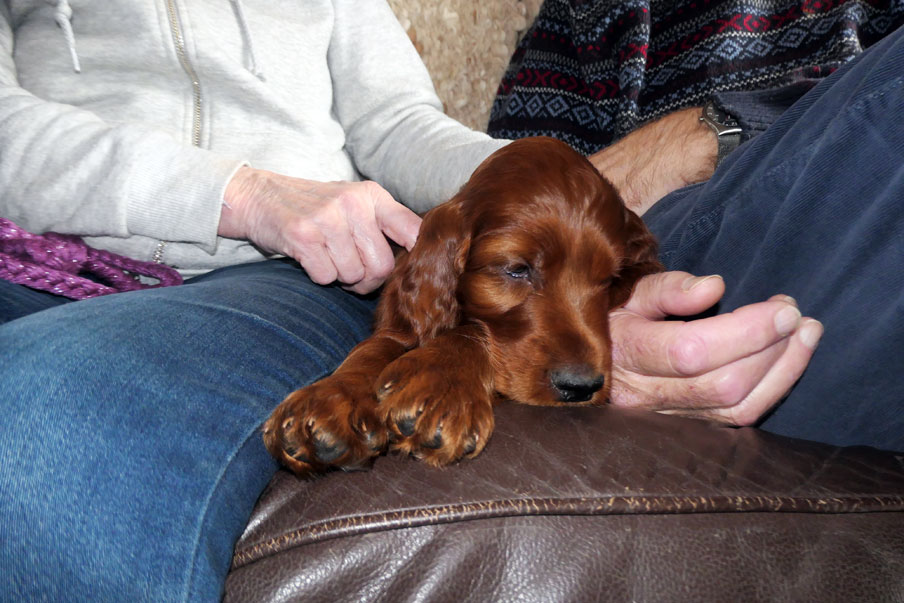 Henry (Green Collar) off to Bristol with S. and E.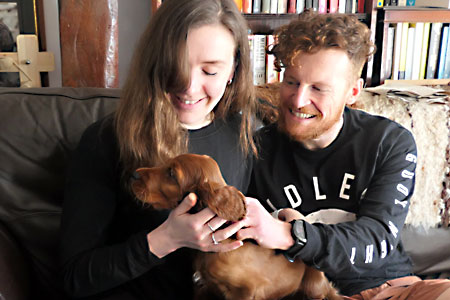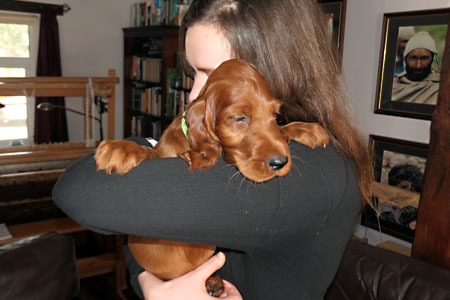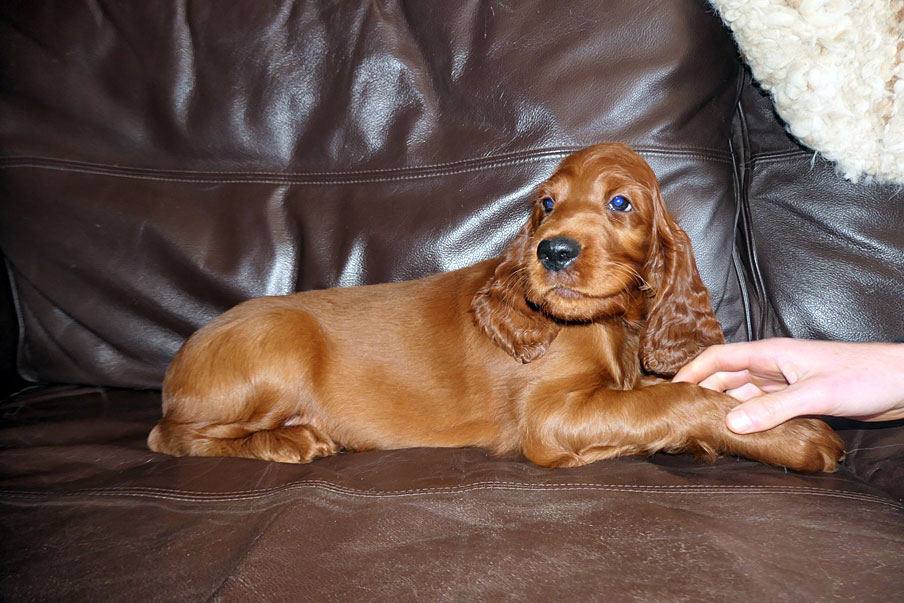 Biscuit (Blue collar) off to Cornwall with S. and B.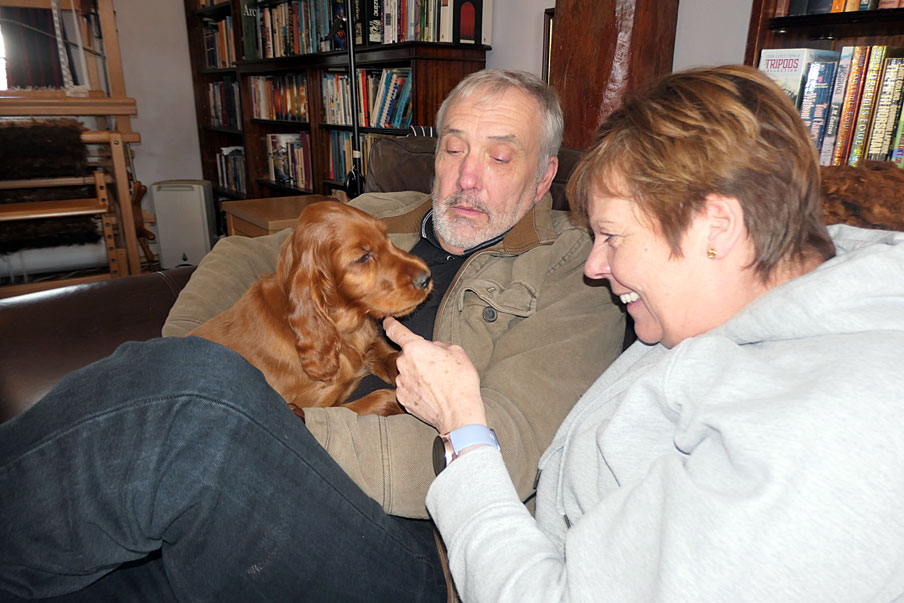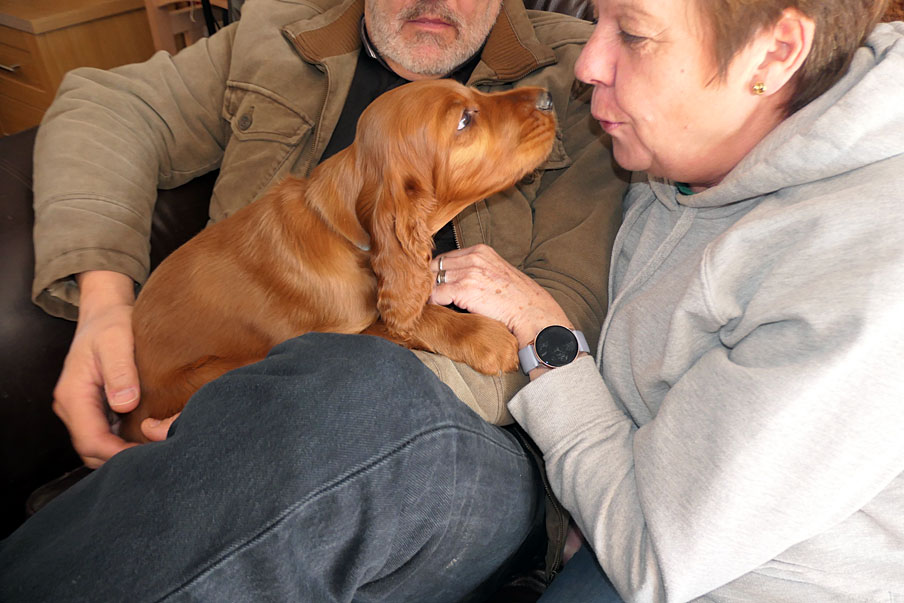 Ruby (Pink collar) off to Staffordshire with the S. family.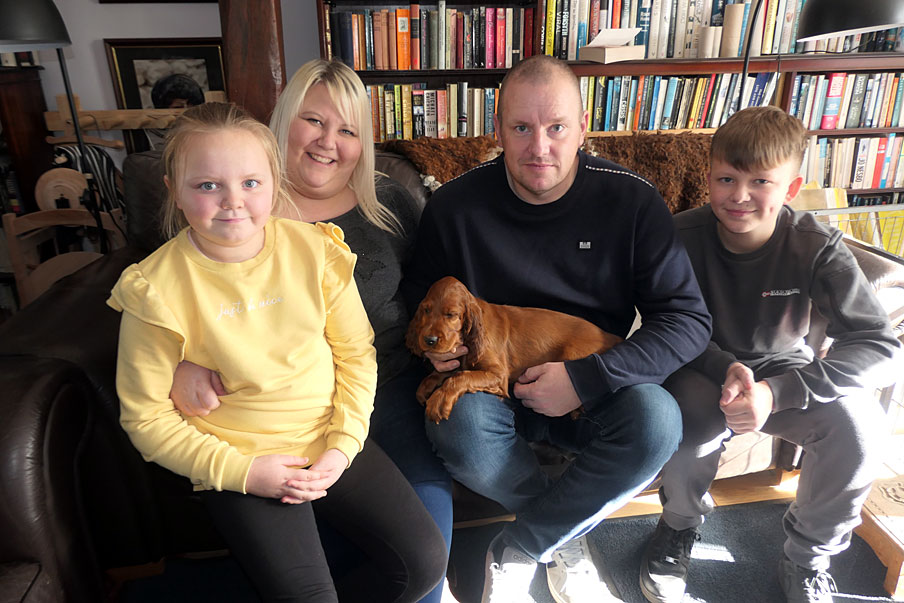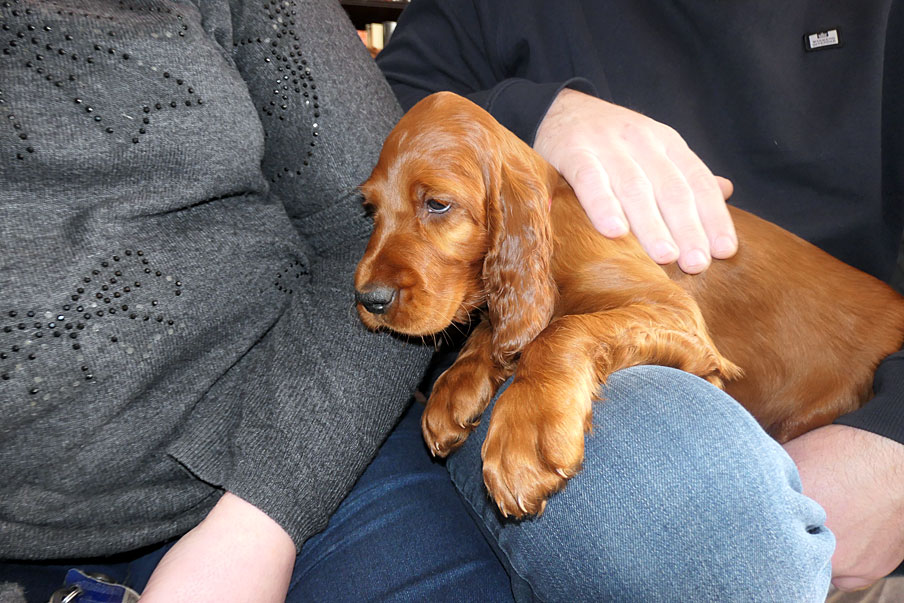 Bonnie (Brown collar, was Orange) off to Sussex with M. and Y.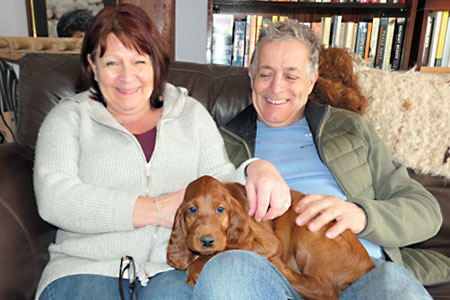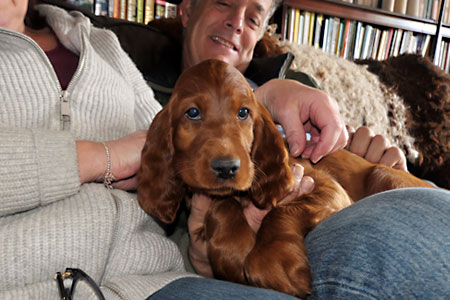 Bonnie (Yellow collar) off to Newcastle with J. and C.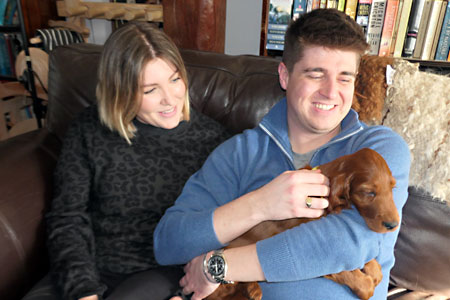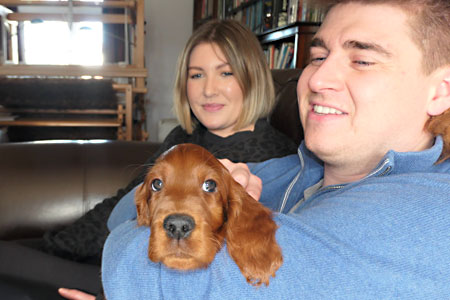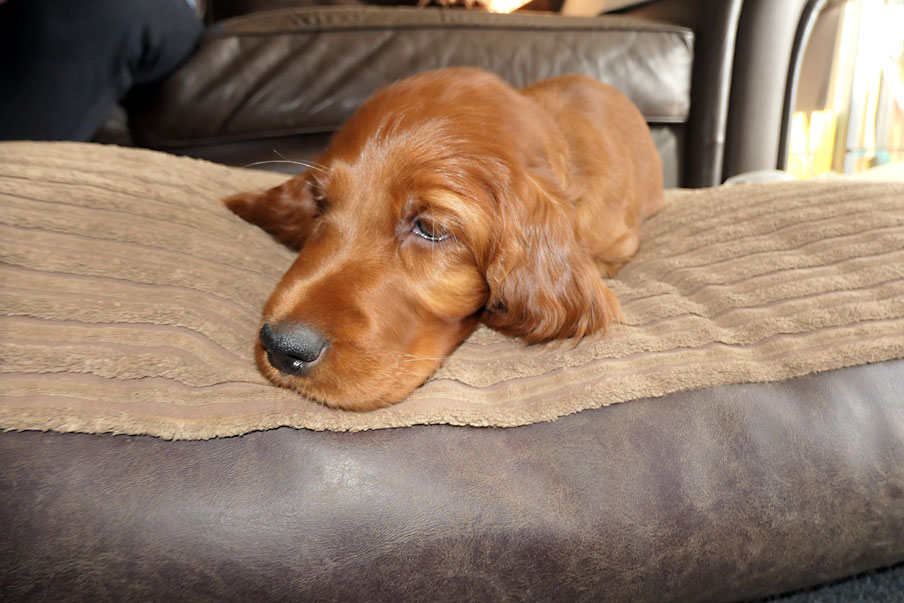 Kevin (Black collar) off to Lancashsire with V. and K.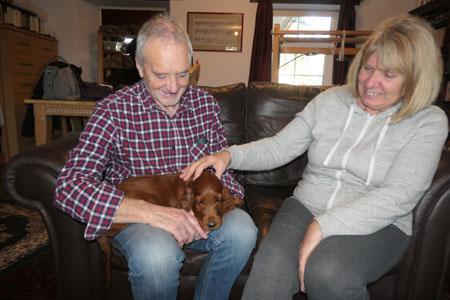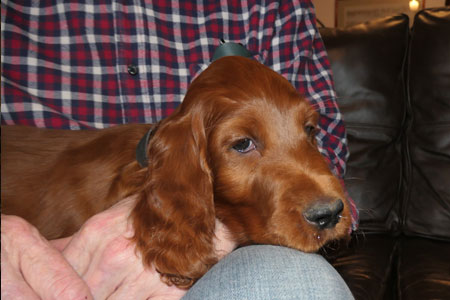 Charm (Turquoise collar) off to Bristol with C. and M.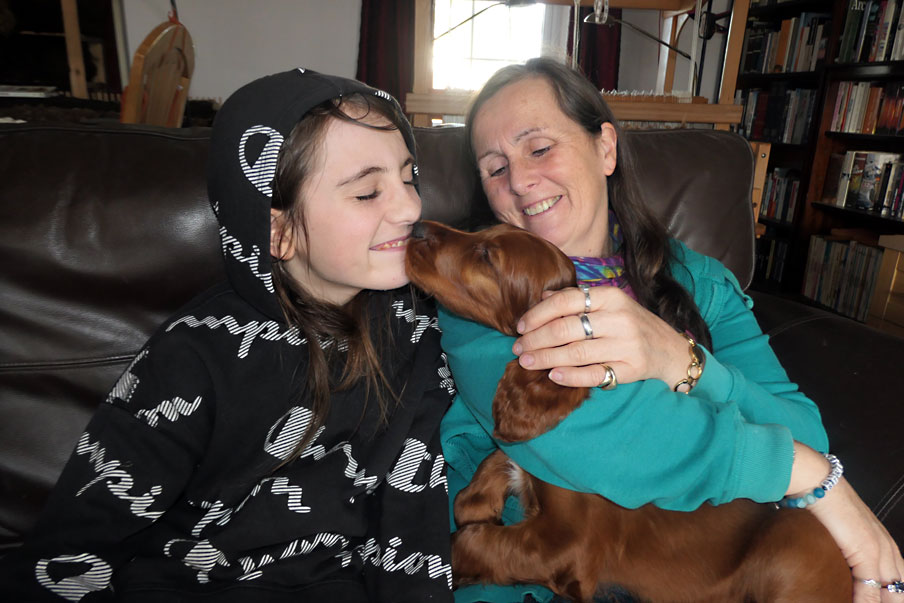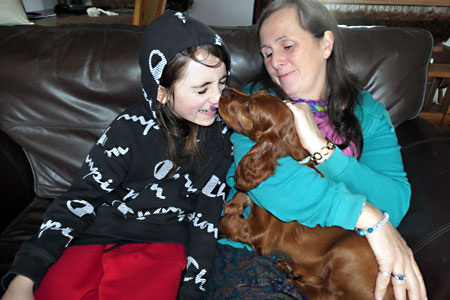 Elsa (White collar, was lilac) off to West Sussex with K. and her family.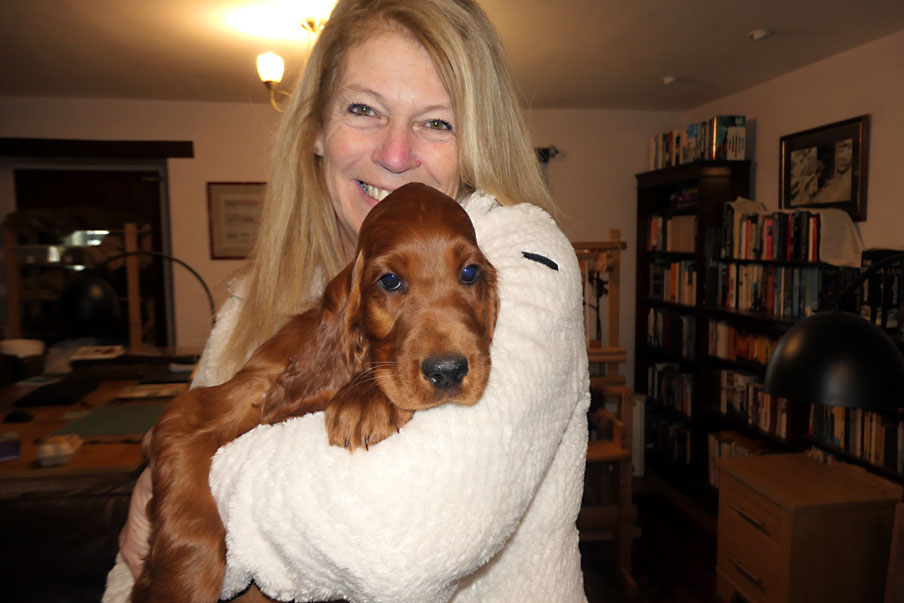 Otter
First afternoon and evening on her own (well, on her own with six other dogs that is...LOL)